Welcome to University Housing
From the Director of University Housing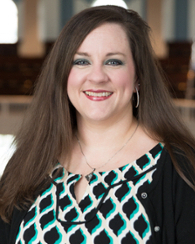 Welcome to DBU Housing! My name is Allyson Miller, and I serve as the Director of University Housing. I want to personally welcome you as you transition to DBU and consider living on campus. We hope that our website can be of assistance as you gather information about the on-campus housing and consider the opportunity of joining either the Residence Life or Upperclassmen Housing communities. Our office is located in the Crowley Complex above the Dining Hall. Each of our staff is dedicated to serving you during this time of transition, and we hope to be of help during your educational experience. In conjunction with receiving a Christ-centered, quality education, University Housing hopes to extend the scholastic experience beyond the classroom and into the housing environment as you grow in community through fellowship. At DBU, we believe that true transformation takes place when you commit yourself to authentic, Christ-centered community.
"How good and pleasant it is when God's people live together in unity!" Psalm 133:1
This verse embodies the mission of the University Housing office as we seek to engage residents in community events, ministry, and service opportunities. To live together with other followers of Christ is a gift from God, and it is our prayer that lifelong friendships begin here on University Hill.
We are so thankful that you are a part of the Dallas Baptist University family, or are at least considering joining this wonderful university. Please let us know if there is any way we can assist you during this time. We hope to see you soon.
Allyson Miller
Director of University Housing
allysonm@dbu.edu
214‑623‑2212
From the Assistant Director of University Housing
When I think of University Housing, I think of community. We need one another at various times and in different ways. As part of DBU's mission to integrate faith and learning, I have found that an integral part of student learning is in developing the much needed bonds of relationship that are a natural outflow of learning and doing life with one another. What better place to find these relationships taking shape then in University Housing.
Being an alumna of DBU and having served as the Assistant Director of Apartment Life for several years now, I have a front row seat to observe these deep bonds of friendship develop over time as our residents do life together. My most cherished times are when I have the opportunity to meet weekly with students to disciple and mentor them.
Susan Rhoades
Assistant Director of University Housing
susanr@dbu.edu
214‑333-5455
From the New Student Housing Coordinator
My name is Brayan Orellana, I graduated from DBU with my BS in Marketing in Fall 2022. I am originally from El Salvador, but I grew up in the great city of Dallas, TX! I get the opportunity to serve as the New Student Housing Coordinator. University Housing is about a global community. Students from all parts of Texas, the United States, and all over the world get the chance to live and study on our beautiful campus. In University Housing, we believe in the mission of integrated faith in learning through a community emphasizing living and learning. The community and people you will find in University Housing will have a lifelong impact and you will make memories that will last through the years! As the New Student Coordinator, I have met with many students and continue to hear the countless stories of God's work in their lives that led them to DBU. I am excited to serve and welcome the future DBU Patriots into DBU housing!
Brayan Orellana
New Student Housing Coordinator
borellana@dbu.edu
214‑333-5277