Community
| Campus Life at Dallas Baptist University |
We know college is more than just hitting the books. It is an incredible time where you will discover new friends, make lasting memories, and grow in your spiritual walk.
DBU offers a variety of events, organizations, and activities designed to challenge you, encourage you, and help you have an incredible campus experience throughout your time on University Hill.
---
Campus Life
DBU seeks to foster a genuine community for its students. Find out how we do it.
As a part of DBU's Christ-centered mission, the Spiritual Life Office provides a variety of discipleship and worship experiences for students, including inspiring chapel services, ministry projects, mentoring programs, Bible studies, service and mission trips, and one-on-one spiritual guidance. To find out more about Spiritual Life at DBU, contact the office at 214-333-5683 or spirituallife@dbu.edu.
DBU's Student Life Office hosts exciting and community-building events throughout the semester. With long-running productions like Mr. Big Chief and Spring Sing, to Coke Breaks, intramural games, musical concerts, movies on the lawn, the Great Pumpkin Chase, and a variety of other incredible experiences, DBU's Student Life is never dull.
Nearly 2,000 students call DBU their home away from home. Some live in the residential halls. Others stay in the apartments. And still more find their spot in the townhomes and brownstones. But all find their community, and University Housing is committed to foster that community throughout their time on University Hill.
University Hours
Check out below the hours for various offices, labs, stores, and dining locations on the DBU campus.
Monday through Friday: 8:00 a.m. – 5:00 p.m.*
*Please note some offices have modified extended office hours. Please visit the department's website for more information.
Note: University hours may vary during holidays and breaks.
Note: Hours may vary during holidays and breaks. Please visit the department's website for more information.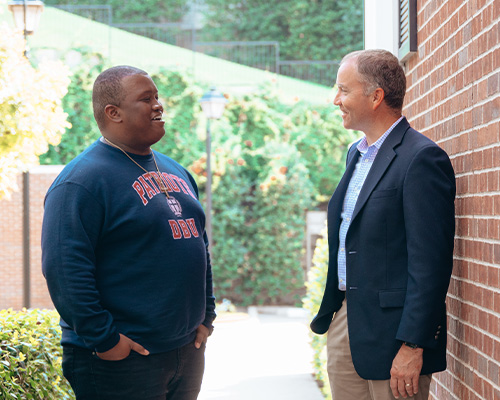 Campus Care
DBU strives to provide a holistic and safe learning environment for each and every student. Explore below some of the ways this is made possible.
---