Commencement
Honoring our May 2020 graduates!
In compliance with state and local social distancing guidelines, DBU will be hosting a special May 2020 Commencement Parade on May 15, and we invite our May 2020 graduates and their families and friends to participate in this special occasion.
How It Will Work
Beginning at 9:00 a.m., graduates and those wishing to participate in the parade will gather at a designated location to line up and receive instructions for the event as well as the opportunity to receive a special DBU car flag.
Then at 10:00 a.m., the parade will begin as the Commencement Parade will be broadcasted live over a designated radio station, and the parade of cars will come onto University Hill. As the route enters the campus, faculty and staff will be there to greet the graduates and their guests, cheering them on while also social distancing and standing at least 8 feet apart. As graduates pass in front of the Pilgrim Chapel, the platform committee will be there to greet them as their name is read and they proceed on to receive their diploma at a designated site.
If you develop symptoms associated with the coronavirus or need to cancel your participation for any other reason, please email commencement@dbu.edu.
May 15, 2020 | 10:00 a.m. CST
Honoring Graduates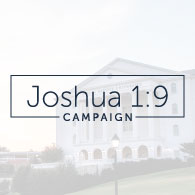 Would you please consider providing a gift toward the Joshua 1:9 Campaign, which is a scholarship campaign that was begun in response to the COVID-19 pandemic? 100% of what you give will go directly toward scholarship funds that we provided to help students this semester.
Click below to provide a financial gift as a way to honor your graduates. Thank you!