John and Nita Ford Village
A living learning community preparing servant leaders
On a beautiful twenty-acre area of land on the east side of campus sits Ford Village, DBU's first Residential College. Often referred to as Living-Learning Communities, Residential Colleges have a tradition spanning back to the founding of the English college system in Oxford and Cambridge, in which students of similar vocational callings lived together.
At DBU, however, we established Ford Village uniquely to house students from a variety of academic pursuits who share a common purpose – developing the knowledge, character, and application of Christ-centered servant leadership principles into every professional endeavor. 
In both the Pedersen Residential College and the Gunn Hall Global Scholars Program, each housing unit is led by a faculty mentor who arranges planned activities throughout the course of the college journey. Residents and their mentors engage in weekly and monthly Bible studies, community meals, travel study trips, guest lectureships, and guided discussions.
An intimate community within a larger University setting, Ford Village is a unique place on the DBU campus to grow academically and spiritually alongside other students with a vision to become Christian servant leaders to serve the world in the next generation.   
Learn more about each house:
Ford Village Mentor Testimonial
Santiago Rodriguez | Business Entrepreneurship | Colombia
Santiago serves as a mentor in Ford Village, one of DBU's living-learning communities.
"I am passionate about people and community. My studies at Dallas Baptist University have equipped me with the tools that I need to be successful in my calling. In the future, I would like to use my professional career as a way to minister to and connect with people in the business field.

Since moving to Ford Village, I have grown in my faith in a number of different ways. Mentoring isn't always easy by any means, but this year has been a season of growth in my spiritual life. Because of my involvement in Ford Village, the Lord has taught me what it looks like to love people as He loved us."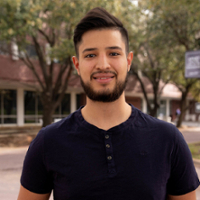 Center for Baptist History and Heritage
The Center for Baptist History and Heritage is located in Ford Village and is a resource for both the students as well as the rest of the campus. The Center is designed to give visitors rich information about Baptist heritage while also acting as a place for students to study and meet together.