Psychology Major (BA/BS)
The undergraduate Psychology discipline at DBU provides a Christ-centered quality higher education in the field of psychology, which encourages undergraduate students to integrate psychology with the teachings of Christianity. Majoring in psychology provides students with an overview of the psychology field and an in-depth study of selected areas and subjects in this multi-faceted discipline. The curriculum features courses in the history and systems of psychology as well as research-oriented subjects. While the integration of psychology and Christianity is a vital concern in each class, a whole course is devoted to addressing psychology and Christianity. Graduates with a major in psychology prepared for entry-level positions in business, education, industry, the mental health field, and other related areas where a psychology background is either required or enhances the individual's employment qualifications. Additionally, DBU graduates are prepared for graduate work in psychology or counseling, leading to professional careers in those fields.
Total Credit Hours: 120 Minimum**
Program Length: 4 Years (average) for full-time students
** Check individual degree requirements for specific total credit hours.  
Psychology Concentrations:
General Psychology 
Child Life Specialist 
Clinical Psychology 
Forensic Psychology 
Industrial/Organizational Psychology
Program Testimonial
Megan Babler | Kenya/Nothern Illinois
"During my senior year of high school, I discovered my passion for mental health. Through personal and societal circumstances, I began to realize the growing need for stable and helpful mental health professionals in our country. A few years after being in college, I realized that I desired to work in the field of forensics, and that has been my area of study ever since. While this is a difficult field, I believe in the importance of bringing light into dark places by any means necessary, and I am grateful that the Lord has given me the grace, capacity, and opportunity to pursue a degree in this field. My studies at DBU have assisted me greatly; whether it be peers or professors, I am continuously pushed to be and do my best."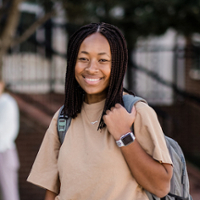 Designed to Meet Your Needs