Political Science Major (BA/BS)
Dallas Baptist University's Political Science undergraduate program fosters an appreciation for the study of government and politics at the national, state, and local levels of government while encouraging students to become informed and concerned participants in a democratic society. The political science program offers a broad introduction to political institutions, processes, and behavior, which produces servant leaders who integrate their faith and learning through their respective callings. Additionally, the coursework provides a foundation for students desiring to enter the public service, attending law school, or pursuing graduate study.
Total Credit Hours: 120 Minimum**
Program Length: 4 Years (average) for full-time students
** Check individual degree requirements for specific total credit hours.  
Program Testimonial
Adom Spencer | Houston, TX
"I'm passionate about unifying the body of Christ in the political field and feel called to serve in both city government and the Church. Dallas Baptist University has helped me integrate a Christian worldview into the topic of politics and has shown me how the Church should serve in the government. In the future, I would like to return to my hometown to begin my political career, but I'm open to serving wherever the Lord leads me to serve."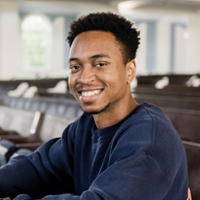 Designed to Meet Your Needs