Meet the Director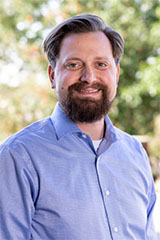 Dr. Jordan Davis
Director of Counseling and Spiritual Care
Jordan Davis, Ph.D. LPC-S.
Director of Counseling and Spiritual Care.
Dr. Davis has served as a Licensed Professional Counselor (LPC) in Texas since 2010. He began his career at Meier Clinic in Richardson where he worked with individuals experiencing a wide range of mental health concerns, including anxiety disorders, mental and physical abuse, trauma, grief and loss, mood and personality disorders, and addictions. While serving as a counselor in the day program at Meier Clinic, Dr. Davis worked with clients as young as 13 through age 65 on a variety of treatment issues. He also served for a time as the Outpatient Clinical Director for Meier Clinic.
Dr. Davis holds a Master of Arts in Counseling degree from Dallas Baptist University and a Ph.D. in Counseling from Texas A&M-Commerce. He is also a board approved supervisor (LPC-S) with the state of Texas and is a licensed Southern Baptist minister. Dr. Davis currently serves as the Director of Counseling and Spiritual Care, serving in this capacity since June of 2016. He has also served as an adjunct faculty member in the counseling program at DBU since January of 2013.
Dr. Davis seeks to provide a safe environment for clients that fosters growth and change. He believes that one must understand the Truth that is provided by God through his Son Jesus Christ in order to experience mental, emotional, and spiritual health.