Meet the Director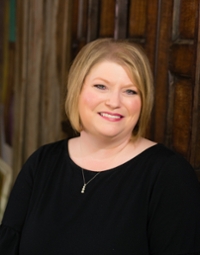 Amy Standifer
Director of the DBU Counseling Center
Amy Standifer, MA LPC-S
Director of the Counseling Center
Welcome to the DBU Counseling Center. I am so glad you stopped by!
You were so excited and worked hard to get here. You had a plan and felt passionate about the direction of your future.
But then life happened:
Your grades and performance in classes are not what you want them to be.
Your relationships are creating additional stresses that are difficult to navigate.
You have started feeling anxious or sad and find it difficult to go out and have fun with your friends.
Or you struggle with trying to find a balance between school, work, and family life.
Whatever you are wrestling with right now, it is not uncommon to experience internal pressure, anxiety, or an overwhelming sense of sadness or dread. You have tried things in the past to relieve the pressure, but they haven't given you the lasting relief you desire.
I'm Amy, and I am here to assist students, faculty, and staff find the help they need to begin healing from events and experiences that keep them feeling stuck and alone. Together, you and your counselor will develop a plan that will guide you and support you as you work towards finding a healthier you.
I am a Licensed Professional Counselor and recognized as a supervisor in Texas. I am a graduate of Dallas Baptist University, where I received my bachelor's degree in psychology and sociology and my master's degree in counseling. In my own private practice, I have worked with adults, young adults, and adolescents by facilitating individual, couple, and family therapy, in addition to working with patients in crisis at local hospitals.
As a Christian therapist, my approach to counseling is Christ-centered and biblically based. When Christ interacted with others, he was always accepting of the person, yet cared enough to confront their unhealthy attitudes, behaviors, and choices. He explored the matters of their heart and offered them an alternative (healthier) way of living.
One of the privileges of my work as the Director of the DBU Counseling Center, is praying for you and your counselors as I oversee the daily operations of the counseling center.
Let us help you unpack and process the issues in life that keep you feeling stuck!