Toni McNutt, Ph.D.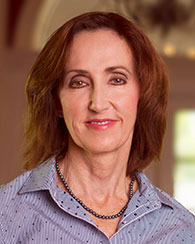 Educational Background
Ph.D. Business Administration - University of Texas, Arlington
M.S. Marketing Research - University of Texas, Arlington
B.B.A., University of Texas, Arlington
Dr. Toni McNutt teaches a variety of marketing-related courses at DBU including Principles of Marketing, Promotional Strategy, and Creative Problem Solving. She began her career in business at Southland Corporation (7-Eleven Corporate), moved to M/A/R/C Research in Irving, Texas and has served DBU since 1995. Dr. McNutt co-founded DBU's Eta Tau chapter of Delta Mu Delta Business Honor Society and has led travel abroad graduate courses in Europe as well as undergraduate travel excursions within the United States. She continues to stay well-versed in all areas of the field of marketing. Dr. McNutt and her husband are blessed with two sons and attend Hampton Road Baptist Church.