Adam C. Wright, Ph.D.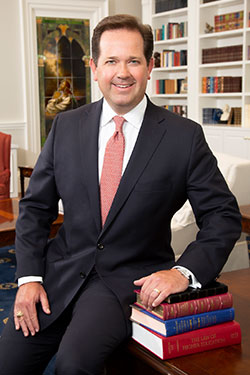 On May 19, 2016, the DBU Board of Trustees elected Dr. Adam C. Wright as the sixth president of Dallas Baptist University. Dr. Wright succeeds Dr. Gary Cook, who announced his transition to the Chancellor position in February 2015, following 28 years of faithful service.
Dr. Wright previously served as Vice President and Dean of the Cook School of Leadership, where he provided academic leadership and taught at both the undergraduate and graduate level.
Prior to his appointment as Dean, he served as Vice President for Advancement at DBU, paving the way for unprecedented growth in fund-raising and development efforts, expanding the physical plant and increasing student scholarships. Throughout his time at DBU, he has provided senior leadership in academic, enrollment, administrative, and advancement areas.
As Dean and a faculty member, he has taught numerous courses in higher education, leadership, and global studies, supervised doctoral research, led international study trips, shaped curriculum, and launched new programs.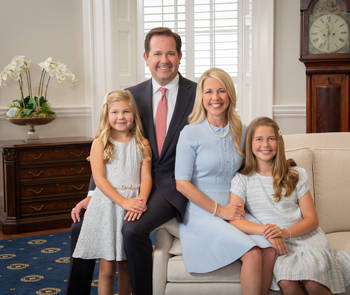 Additionally, he has led domestic and international travel study courses and maintains an active role of membership in international leadership and academic societies. In 2014, he founded DBU's Institute for Global Engagement, a Christian think tank with a focus on connecting scholars and practitioners in order to become catalysts for moral and spiritual renewal. A native of Oak Cliff, Dr. Wright came to DBU as an undergraduate student, serving in various leadership roles on campus including president of the Student Government Association. He soon became a full-time staff member while earning both a Master of Education in Higher Education and a Ph.D. in Leadership Studies with a concentration in higher education. Dr. Wright and his wife, Candice, who received both her bachelor's degree and Master of Business Administration degree from DBU, have two daughters, Abigail Grace and Katherine Elizabeth. They are members of Park Cities Baptist Church, where the Wrights teach Sunday School and are actively engaged in the life of the church.