M.A. in Student Ministry
A Foundation for Ministry. A Lifetime of Service.
Impacting today's culture for Christ requires ministry specialization, which is why a specific degree in Student Ministry is ideal. Our graduates develop the essential skills and knowledge for service, along with an educationally strong and theologically accurate philosophy of ministry that prepares them for life. Our university model provides an efficient degree plan with the benefit of an extended concentration of Student Ministry courses. The program combines practical student ministry experience, contemporary methodology, and the timeless truth of God's Word.
"The one who calls you is faithful…" — 1 Thessalonians 5:24
How Our Graduates Impact Their World
Graduates follow God's call from serving on staff at churches and para-church organizations, to serving specific needs such as human trafficking and the disabled. Other ministries include teaching at Christian schools, youth evangelism, missions, campus ministries, and curriculum development.
Experienced Faculty. Servant Leaders.
Learn from faculty practitioners who teach not only from the textbook but also from their ministry experience. We intentionally integrate Christ-centered, servant leadership principles into every aspect of study-from the courses students take, to the professors who teach. This DBU distinctive sets apart our program and our graduates.
Designed to Meet Your Needs
We enable you to pursue graduate study while balancing career, family, and ministry. DBU graduate students have many options for completing their degree, including schedule flexibility and financial aid.
Program Goals
Provide a practical educational base of knowledge for effective student ministry
Analyze the components of student ministry
Synthesize a theological foundation, a philosophical approach, practical applications, and biblical servant leadership skills
Develop an effective transformational student ministry model
Learn to address biblical objectives in a contemporary setting
Meet the Director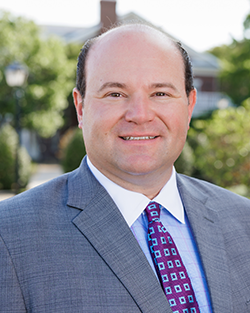 Dr. Blanton Feaster
Program Director
Email: blanton@dbu.edu
Phone: 214.333.5256
Pilgrim Suite 304
Adolescence is the most pliable stage of a person's life, and it is the ideal opportunity to impact a person with the Gospel. However, evidence is overwhelming that we are in danger of missing this generation for Christ. With the power of God available and His command to make disciples, it would be inexcusable for us to allow this to happen on our watch. We must urgently prepare ourselves for a new era of student ministry. The Master of Arts in Student Ministry at Dallas Baptist University will equip you to impact teenagers through discipleship. Our goal is to help you clarify your call, empower you with a sound theological base, enable you to build on a contemporary educational foundation, and challenge you to be on the front lines of ministry as God uses you to lead this emerging generation into spiritual renewal. Our convenient, creative, and flexible program design will facilitate your incredible ride on the cutting edge of a new era in student ministry.
FORGE
DBU's Graduate School of Ministry and Pine Cove's Forge have partnered to allow Forge alumni to earn up to 18 hours toward a master's degree offered through the Graduate School of Ministry.
Sky Ranch
Tuition free master's degrees! The partnership between DBU's Graduate School of Ministry and Sky Ranch provides participants in their Legacy Fellowship the opportunity to pursue one of nine online ministry degree programs, paid for by Sky Ranch, while gaining invaluable real world experience at the same time. Visit the Sky Ranch website for more information.
Accelerated Degrees
Are you a current or prospective Undergraduate student? Get your Master's faster with our Accelerated Degree Programs.
Advanced Certificates
Wanting to pursue graduate studies, but not ready to complete a master's degree? Consider an Advanced Certificate Program!
DBU's Ministry-Related Master's Degrees provide Christ-centered graduate level training for ministry leaders, equipping them with a biblical, theological, historical, and practical foundation for ministry.
Enhance your ministry by pursuing a master's degree.