An Evening with Ken Starr
Tuesday, February 22, 2022
Join us for a special evening on Tuesday, February 22, as DBU's Institute for Global Engagement hosts Judge Ken Starr, nationally known and respected scholar and leader in the areas of religious liberty, constitutional law, and higher education.
In his most recent work, Religious Liberty in Crisis, Starr explores the various ways that the concept of religious liberty, which has stood at the heart of the American experiment, is undergoing a series of unprecedented challenges and how those of everything faith and of none can stand up and protect this basic human right.
Judge Starr will be speaking at 7:00 p.m. in the Hillcrest Great Hall of the John G. Mahler Student Center on the topic of Religious Liberty in Crisis.
Tuesday,
February 22, 2022
7:00 p.m. CST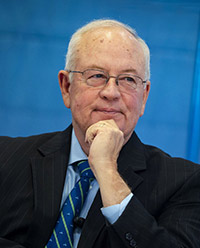 Ken Starr
Judge Starr served as U.S. Solicitor General, and he has argued 36 cases before the U.S. Supreme Court. He served as United States Circuit Judge for the District of Columbia Circuit, as Counselor and Chief of Staff to U.S. Attorney General William French Smith, and law clerk to both Chief Justice Warren E. Burger and to Fifth Circuit Judge David W. Dyer. He also served as President and Chancellor of Baylor University and Dean of the Pepperdine School of Law.