Hillsong International Leadership College
Transfer up to 78 hours of college credit (most students can complete their bachelor's degree in 18 to 24 months).
Hillsong graduates with a Diploma or Advanced Diploma may qualify for the HILC Scholarship of $100 per credit hour. You may also be eligible for priority consideration of the Christian Leadership Scholarship (for eligible students).
Take classes online, at night, or on weekends to fit your busy schedule.
Earn a bachelor's degree from a regionally accredited institution and open the door to your career or graduate work.
Continue here what you started there!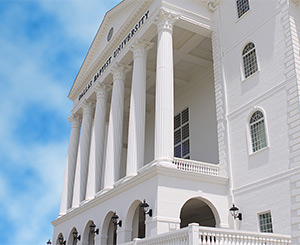 It is now easier than ever to complete your four-year bachelor's degree through Hillsong International Leadership College's partnership with Dallas Baptist University. You can choose from 18 bachelor's degrees and 4 accelerated bachelor's to master's degrees offered through Dallas Baptist University's College of Professional Studies. Classes are available on-site at the majestic 293-acre hilltop campus in Dallas, Texas. Study is also available online or through hybrid classes (part-online, part-classroom). DBU also offers a personal academic advisor devoted exclusively to guiding graduates of Hillsong College through degree completion and beyond as you fulfill God's calling on your life.
"Hillsong gave me a kingdom mindset, and DBU has given me the management and business skills to lead and serve wherever God calls me next."

- W. Scott Bolin, DBU Transfer Student from Hillsong
Considering DBU?
Call Amanda for help with the admission and scholarship application process.
Amanda Ferreira
Admissions Counselor
College of Professional Studies
214-333-6829
amanda@dbu.edu
Already a DBU student?
Call Cindy for advising and help with registering for classes.
Cindy Stroud
Academic Counselor
College of Professional Studies
214-333-5809
cindy@dbu.edu
Bachelor of Arts and Sciences
Bachelor of Business Studies
Bachelor of Arts
Bachelor of Science
Accelerated Bachelor and Master's Degrees