DBU's Supply Chain Management program
M.S. in Management Concentration

The Master of Science in Management is a STEM accredited 36-hour master's degree with a 12-hour concentration in Supply Chain Management. We take an experiential approach that provides the best of theory and practice so graduates are prepared to make an immediate impact. Our curriculum is aligned with SCPro level 1, in partnership with the Council of Supply Chain Management Professionals. We focus on supply chain practices and technologies in a structure that is designed around the schedules of working professionals. Graduates will understand real-world strategies taught by scholar-practitioners.
It's More than an Education
At DBU, students earn more than just a degree. The realization of the possibilities that lie within our students requires more than the preparation of the mind. Our holistic approach means we don't focus only on career development, but we also strive to develop YOU. We are a Christ-centered institution, and we believe in building up servant leaders who can impact supply chains through unparalleled academic preparation as well as through personal development as a servant leader through a greater calling that provides meaning and purpose.
An Opportunity for Success
The demand for SCM professionals, an excellent DFW market, and DBU's strong network and integration into the business community, combine to create a strong platform for success.
18th Best Job: Supply Chain Manager - Glassdoor 2017
5th Best Job: Operations Manager - U.S. News and World Report 2018
19th Best Job: Logistician - U.S. News and World Report 2018
Make an Impact in one of the Best Markets in America
The need for professionals with highly specialized knowledge in supply chain management has never been greater than it is in today's global economy. New processes, technologies, and platforms mean the supply chain industry greatly values well-educated talent who is equipped to lead an organization with exceptional supply chain management. The current supply-to-demand for equipped SCM professionals is 1:2. Dallas/Fort Worth is the third-ranked premier logistics hub and boasts the fourth largest international airport, as well as is one of the top business markets in the United States. Business Insider ranked Dallas #4 based on growth, employment, and business opportunities. This equates to an ideal business environment, and DBU's SCM program is integrated into the business community to create exceptional opportunities for graduates.
Meet the M.S. in Management Program Director
"We provide unique and customizable paths to prepare you to meet the challenges posed by our rapidly changing global markets. Come join our inclusive community and help transform the world."


- Dr. Joe Hopkins, Program Director
214-333-6943 | jhopkins@dbu.edu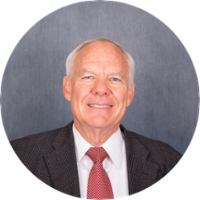 Additional Supply Chain Management Concentration Information
Concentration
Supply Chain Management Concentration (18 hours)
Degree Plan
Advanced Certificates
Admission Requirements for the M.S. in Management
View DBU Graduate School's admission requirements.
Admission to one graduate program does not guarantee admission to another. Applicants who show potential for graduate study but do not meet the criteria for Full Admission may be admitted for up to 12 hours under provisional status. Students admitted under Provisional Admission will be granted Full Admission upon successful completion of 12 credit hours and fulfillment of the conditions of their admission as determined by the Master's Degrees Admission Committee.
Full Admission Requirements | International Admissions | Transfer Admissions
Corporate Partnerships