Welcome to the Center for Servant Leadership
Today's world needs sacrificial givers. World changers. Servant leaders.
Throughout history, those who have made the greatest contributions to society have been the ones who did not seek to exalt themselves, but instead sought ways to serve others. Christ taught and modeled this Himself:
"Jesus called them together and said, 'You know that the rulers of the Gentiles lord it over them, and their high officials exercise authority over them. Not so with you. Instead, whoever wants to become great among you must be your servant, and whoever wants to be first must be your slave.'" (Matthew 20:25-27, NIV)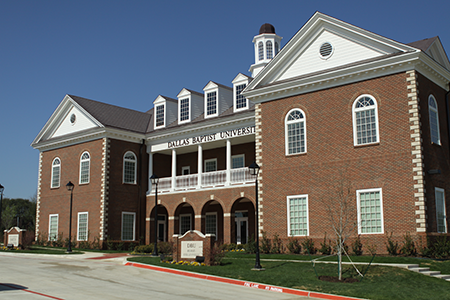 Dallas Baptist University is pleased to partner with the North Texas community, as well as fellow faith-based non-profit organizations, to provide opportunities for transformational influence within society and around the world. With a rich history of local and global involvement, DBU actively serves individuals and organizations that are making a difference in our world. Taking on the pattern that Jesus Himself modeled, the University desires to provide effective leadership through the act of serving.
Dallas Baptist University's Center for Servant Leadership is designed to do just that. Our mission is to support your efforts in business, education, or ministry by providing reduced-rate space rental opportunities, allowing you to reallocate resources to those areas that more directly support the successful achievement of your organization's calling.
At the DBU Center for Servant Leadership, you can also hear more about DBU's undergraduate and graduate programs, apply for admission, and attend classes as you work towards the completion of your degree. If completing an undergraduate or graduate degree would place you on the track for advancement in your career, or if it would simply fulfill a lifelong dream, let us tell you how the DBU Center for Servant Leadership can make your ambitions a reality.
How can DBU's Center for Servant Leadership serve you today?