Camp and Recreation Management Major (BBA)
Available Fall 2020
Make a World of Difference.
Class Type: Classroom
Summer camps, retreats, and sports and recreation programs are not only part of a booming industry in need of high-capacity leaders, but they are also some of the best opportunities for making a lasting impact in kids, families, and communities.
The Camp and Recreation Management degree at Dallas Baptist University was developed with the extensive input of industry leaders and camp directors as well as passionate faculty members who developed an interdisciplinary curriculum designed to provide a top-tier education for students pursuing a career in camp, recreation, and other related fields. DBU integrates our faith in Christ and emphasizes servant leadership for those who go from here to launch new or lead existing ministries and organizations. Additionally, the degree provides all the benefits of a well-rounded business education, providing a solid preparation for many career paths.
Additional Details
Why should I consider pursuing a bachelor's degree in Camp and Recreation Management?
The Camp and Recreation field is a growing industry! According to the American Camping Association:
Camping is an 18 billion dollar industry. (Source: 2015 ACA Business Operations Report)
More than 14,000 day and resident camps exist in the U.S. 8,400 are resident (overnight), and 5,600 are day camps. (Source: 2017 ACA Sites, Facilities, Programs Report)
Since 2002, the number of ACA day camps has increased by 69%, and resident camps have increased by 21%. (Source: CRM Camp Statistics Report, June 2013)
Each year more than 14 million children and adults attend camp in the U.S. (2013 ACA Camp Compensation and Benefits Report)
Nonprofit groups, including youth agencies and religious organizations, operate approximately 11,000 camps, and 2,500 are privately owned independent for-profit operators. (Source: 2017 ACA Sites, Facilities, Programs Report)
Camps employ more than 1,500,000 adults to work in various camp positions. (Source: 2013 ACA Camp Compensation and Benefits Report)
Youth Sports Leagues alone account for billions of dollars in national economic impact, including fees, travel, facilities, leagues, apparel, and many other ancillary industries, all of which need capable, prepared leaders.
Source: "ACA Facts and Trends." American Camp Association. Retrieved from https://www.acacamps.org/press-room/aca-facts-trends
What career paths are available with a Camp and Recreation Management degree?
The Camp and Recreation Management degree is excellent preparation for a wide variety of career options:
The traditional summer camp is an American, and increasingly global, institution. Independent for-profit and non-profit camps, as well as organizational and faith-based camps, continue to offer additional program options for children and families.
Recreation careers are available in national, state, and local parks and recreation deparments, educational institutions, private sports centers and programs, and fitness-based facilities and organizations.
The qualities and education needed for success in the field—management, marketing, people skills, entrepreneurial mindset, facility development—are easily transferable to many fields.
What kind of impact do camps and recreation have on families?
Parents send children to camp because:
Camp helps build self-confidence and self-esteem.
Camp is a safe environment.
Camp is a place to build social skills and make lifelong friends.
Camp helps their children become more independent and develop leadership skills.
Camp helps children become more adventurous and willing to try new things.
Camp is where significant and lasting spiritual decisions are formed.
Camp is fun for kids!
35 million kids in America will play in sports leagues this year. Parents encourage sports participation because sports:
Encourage physical activity and healthy habits.
Provide social interaction with peers and adults.
Teach teamwork, sportsmanship, and how to control emotions.
Promote self-discipline and the value of preparation.
Help develop skills for handling success and failure.
Show kids how to play within the rules.
Allow kids to have fun!
Why should I study Camp and Recreation Management in the DFW area?
The DFW Metroplex is perfectly situated for our students, with some of the top organizations in the camp and recreation fields in close proximity. Camps from across the state and country are regularly on campus recruiting students. Local cities and suburbs are home to premier professional, semi-pro, and amateur sports organizations and boasts a business-friendly environment
Program Overview
The Camp and Recreation Management program will cover industry-specific topics such as
Facility development
Outdoor education
Recreation
Programming
Additionally, the student will also study the core components of business, including:
Management
Marketing
Finance
Economics
Accounting
Communication
Course Convenience
DBU offers classes in a variety of formats, including:
In-Person
Hybrid (Classroom and Online)*
Online*
*Selected courses are available in the formats listed. View the current Schedule of Classes for specific courses.
Classes Start
Generally, classes begin four times a year:
Spring
Summer
Fall
Winter
Can DBU get me to where I want to go?
Dallas Baptist University has a well-established reputation in the world of camping and sports ministries.
A leading recruiting destination for camps from across the country
Hosts annual Camp Day to encourage student employment and camp participation with the University
Sends out well-trained and equipped "Rec Teams" to support camps throughout Texas
Provides course credit for approved professional experience and internships
Offers Mission Trips to lend an international component and help establish or support camp ministries in other parts of the world
Hosts "ServantU," a week-long camp on the DBU campus
Credit Hours Overview
General Studies
Business Core: 33 Credit Hours
Camp and Recreation Management Major: 24 Credit Hours
 Electives

Upper-Level: 
Lower or Upper-Level: 

Minimum Total Credit Hours Required: 120 Credit Hours
Travel Opportunities
In addition to mission trips, DBU periodically offers students travel opportunities to earn course credit.
Meet the Program Director
"Camp is one of the best tools to encourage spiritual life and growth in children, teens, and adults. I know of few endeavors more powerful in making a positive difference in the world. Likewise, sports and recreation capture the time and attention of much of our culture and can be used to great effect."

- Dr. Ed Walker, Program Director
214-333-5672 | edw@dbu.edu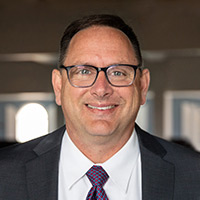 Ed Walker was founder and director of Sabine Creek Ranch, a successful camp and retreat facility near Dallas. In addition to directing the Camp and Recreation Management degree program at DBU, he enjoys networking with camp leaders from across the U.S. and beyond.