Ph.D. in Leadership Studies
Lead with Distinction.
Through our commitment to servant leadership, we develop you for the leadership role you have today—and in the future. Our experienced faculty work alongside your particular interests to guide you to the next level of excellence in your chosen field.
Contact the Director
Mary Nelson, Ph.D.
Director
214-333-5396
maryn@dbu.edu
Application Deadline: March 11, 2024*
*Entrance exam requirement waived for the 2024 application season
Program Requirements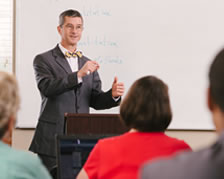 The Ph.D. in Leadership Studies is a minimum 60-hour research doctorate program designed to develop and enhance the competencies that are essential to servant leadership in the twenty-first century. The degree consists of:
30-hour core of leadership courses
12-hour concentration in one of four areas (business, higher education, ministry, or general leadership)
12 hours of research and statistics
6-hour dissertation
During the coursework phase, the format of the degree program requires students to attend one weekend a month for three months each fall and spring semester and 7-10 days in the summer.
Concentration Areas
The program includes a 12-hour concentration in business, higher education, ministry, or general leadership.
Summer Institutes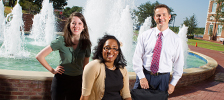 In addition to semester courses, the program includes three Summer Institutes comprised of 7-10 day intensive sessions. The first Summer Institute is held in Dallas, Texas and focuses upon personal growth, professional development, and leadership courses. The second Summer Institute includes a trip to Washington, D.C., with a special emphasis on political leadership. The third Summer Institute is based in Oxford, England, with a concentration on global and cultural leadership issues.
Learn More
How Our Graduates Impact Their World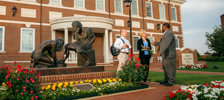 Graduates of the Ph.D. in Leadership Studies are highly equipped to serve in executive leadership positions within business, education, industry, ministry, civic, or governmental contexts. They are well-prepared scholars with the required biblical, classical, historical, philosophical, and cultural/global foundation to effectively address contemporary leadership issues.
Learn More
"The Ph.D. in Leadership challenges students as scholars all the while cultivating their strengths as leaders and galvanizing their pursuit of God's calling."
— Dr. Mary Nelson, Ph.D. Director
Read More Testimonials >>