Master of Education in Higher Education
Beginning in Fall 2023, this master's degree will be offered exclusively online. It will be available to new students who take all courses in the degree program online for $550 per credit hour.
The Master of Education in Higher Education is a 36-hour, non-thesis degree program that is designed to provide an advanced understanding of the skills necessary to lead on a college or university campus and support the implementation of the institution's mission and vision.
 Students choose from either the Administration Track or an Instructional Track. The Administration Track has a 24-hour core curriculum plus a 12-hour concentration in one of the following: Community College Leadership, Learning Technologies Specialization, Interdisciplinary Studies, Leadership Studies, or Student Affairs.
The Instructional Track has an 18-hour core curriculum, along with an 18-hour Instructional Field Concentration. This degree is for professionals who wish to obtain a master's degree to teach at the undergraduate level. The Instructional Track is designed to help leaders gain both the content knowledge and the credentials they need for teaching or advising college students.
More than an Education
Course Convenience: Online Courses, Hybrid Courses (Classroom and Online), Evening Courses. Explore the option to earn your M.Ed. in Higher Education completely online!
Graduates in the M.Ed. in Higher Education program stand out as leaders among their peers in a variety of positions within post-secondary institutions. Drawing on their Christ-centered, inter-disciplinary foundation, they are exceptionally trained to make a significant contribution in fields ranging from administration, student personnel work, university advancement, or teaching on the college level.
Marked by Service
Passionate, principled leaders are needed at the forefront of contemporary challenges in higher education. A biblical and values-driven approach to leadership means you will follow your passion to impact others, while maintaining your integrity and enriching your leadership skills. The exploration of faith and learning in a Christ-centered academic environment will equip you to make a lasting impact on students and colleagues.
Meet the M.Ed. in Higher Education Program Director
"Do you sense the Lord leading you to pursue this degree? If so, apply now to secure your spot for the upcoming semester."

- Tish Hearne, Program Director
214-333-5896 | tish@dbu.edu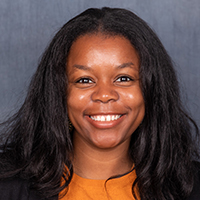 Additional M.Ed. in Higher Education Program Information
Graduates of the Master of Education in Higher Education program have gone on to become Presidents, Vice Presidents, Deans, Marketing Specialists, Career Advisors, Professors, and so much more. Join them in a future of excellence by pairing your M.Ed. in Higher Education with another master's degree or an advanced certificate.
Admission Requirements for the M.Ed. in Higher Education
View DBU Graduate School's admission requirements.
Admission to one graduate program does not guarantee admission to another. Applicants who show potential for graduate study but do not meet the criteria for Full Admission may be admitted for up to 12 hours under provisional status. Students admitted under Provisional Admission will be granted Full Admission upon successful completion of 12 credit hours and fulfillment of the conditions of their admission as determined by the Master's Degrees Admission Committee.
Full Admission Requirements | International Admissions | Transfer Admissions