Master of Science in Digital Risk Management
The Master of Science in Digital Risk Management (MSDRM) program is designed to equip leaders to future-proof their organizations through integrated risk management. Leaders will have the ability to navigate their organization's digital transformation through a strong foundation in strategic, operational, and technology risk management.
We take an interdisciplinary approach to Digital Risk Management through the lens of Security by Design, Digital Ethics, Privacy, Compliance, Agile ways of working, Digital Transformation, and a Risk optimization mindset by embedding trust.
More than an Education
"Zoe vitae" (Eternal life) is the motto of our program which we believe is achieved through the finished work of Christ. The Word of God plays an integral part in our teaching. Courses are taught by exceptional faculty who work as C-level executives, Vice Presidents, Directors. In short, we bring the industry to you. Our teaching style is to be a guide on the side than be a sage on the stage.
 We are a teaching University, and our focus is on the holistic development of our students. We help you determine your "why," get the bigger picture on how the program relates to your calling, how it falls in place in a grander scheme of things, address your hopes and fears, determine academic, career goals, and help customize courses to meet your needs.
Marked by Service
Our mission is to "To nurture and mold students to be the best Digital Risk professionals through Christ-centered education, superlative campus experience, experiential learning as well as fostering relations with the Business Information Security world enabling them to be Christ-centered servant leaders as well as effective Alumni." We are here to help you in your journey and are dedicated to your success.
Meet the M.S. in Digital Risk Management Program Director
"Our goal is to future-proof leaders and thereby transform organizations through the finished work of Christ."

- Sharon Gorikapudi, Program Director
214-333-7252 | sharong@dbu.edu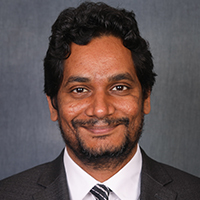 Additional M.S. in Digital Risk Management Program Information
Admission Requirements for the M.S. in Information Technology and Management
View DBU Graduate School's admission requirements.
Admission to one graduate program does not guarantee admission to another. Applicants who show potential for graduate study but do not meet the criteria for Full Admission may be admitted for up to 12 hours under provisional status. Students admitted under Provisional Admission will be granted Full Admission upon successful completion of 12 credit hours and fulfillment of the conditions of their admission as determined by the Master's Degrees Admission Committee.
Full Admission Requirements | International Admissions | Transfer Admissions
The focus of the M.S. in Digital Risk Management program is on experiential learning through internships wherein students solve real-world business problems in digital risk management and associated practices. Students will explore how the interaction among management, cybersecurity, leading technology, privacy, and ethical leadership provides strong solutions. The result is a graduate with the ability to transition into both disruptive and traditional organizations. This program is relevant to students who are looking for jobs, in career transition or planning to switch careers/sectors. 
Accreditation
Dallas Baptist University is accredited by the Southern Association of Colleges and Schools Commission on Colleges (SACSCOC) to award associate, bachelor's, master's, and doctoral degrees. Questions about the accreditation of Dallas Baptist University may be directed in writing to the Southern Association of Colleges and Schools Commission on Colleges at 1866 Southern Lane, Decatur, GA 30033-4097, by calling (404) 679-4500, or by using information available on SACSCOC's website (www.sacscoc.org).
Dallas Baptist University is nationally accredited by the Accreditation Council for Business Schools and Programs (ACBSP) to offer the following business degrees: Bachelor of Business Administration (B.B.A.), Bachelor of Business Studies (B.B.S.), Master of Business Administration (M.B.A.), and Master of Arts in Management (M.A.M.) degrees. The Master of Science in Digital Risk Management has been recently instituted and will be offered for accreditation within the appropriate timeframe.
M.S. in Digital Risk Management Faculty Members
The Master of Science in Digital Risk Management program at Dallas Baptist University is equipped with highly skilled and knowledgeable faculty members with several years of industry experience who will provide students with the necessary guidance to succeed in their professional goals. Here are a few of our faculty teaching in the M.S. in Digital Risk Management program.
Chad Thiemann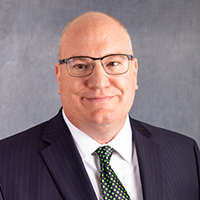 Chad earned his Bachelor of Science in Business Administration in MIS and Operation Management from Boston University. Upon graduating, Chad was commissioned a second lieutenant and began a six-year tour in the active-duty Army as a logistics officer. Additionally, Chad earned a graduate certificate in 'Cybersecurity: Technology, Application & Policy' from MIT as well as an Executive Master in Cybersecurity from Brown University.
He holds the following professional certifications: CISA, CISM, CRISC, CIPP/US, CIPM, FIP, and CPISM. Throughout his IT journey, Chad worked at Arthur Andersen, Schering-Plough Pharmaceuticals, and he is currently working at CVS Health (before CVS Caremark), where he serves as the Privacy Director in the Legal group. He facilitates efforts to ensure confidential data is secure, handled in a privacy-compliant manner, and shared with partners/practitioners/vendors in a judicious secure way.
Mike Rochelle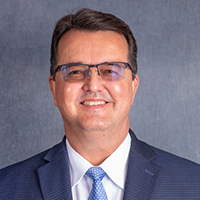 Mike is a results-oriented business leader with a demonstrated ability to meet or exceed business goals. His passion is helping people and organizations continually renew their purpose-based vision, providing growing value to clients, and reaching their organizational and individual growth potential. He has 30+ years of increasing IT operations, sales, marketing, and business/customer process lifecycle transformation experience.
Mike helps clients maximize their (1) Telemedicine practice with MediGuru platform and services, (2) cloud application creation and maintenance, (3) accelerate business insights creation through value-added onsite and remote DevOps modernization services - VP of Cloud Services Delivery at Cloudix, Inc., a Microsoft Gold Cloud Partner and Systems Integrator.
As a volunteer, he also builds a community where business professionals accelerate results through leading-edge discussions and actions on the ethical use of technological advances - Founding President of the Association for Business Technology Professionals DFW.
Mike's business offers business executives the ICCP 'Certified Leadership Professional' credential via ABTP DFW's Senior Leadership Forum, with over 3,500 souls served in 23 years - Founder and CEO of MRaA, a management and leadership consultancy.
Paola Saibene
Paola Saibene has been a technologist for the last 25 years, after having established and practiced in two other careers, that of a psychologist and that of a professor at universities in the area of literature and linguistics. She has been successful in converging these fields of study to deliver and execute in a future-minded, holistic, empathetic, and sustainable manner. As a technologist, Paola rose to C-level technical positions (CIO/CTO/CSO) in large multi-billion dollar organizations, granting her multiple awards by both government and private sectors in the areas of technology innovation and cybersecurity. Paola knows well that despite all the hard work and dedication, and determination, none of these accomplishments were deserved but instead granted and gifted by the Lord.
Becki Memmer
Biography coming soon
Dr. Danxia (Christina) Chen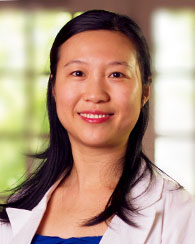 Dr. Christina Chen teaches statistics courses in the College of Business and in the College of Natural Sciences and Math and the Cook School of Leadership and also teaches Chinese in the College of Humanities. A life-long learner and native of China, Dr. Chen has built her teaching philosophy around the Chinese proverb that asserts "to give students a bowl of knowledge, one must have a barrel." She enjoys preparing her students with statistical awareness in hopes of building up intellectual and influential Christian leaders.
Prior to joining DBU, Dr. Chen served at the University of North Texas as the manager for the Center for Interdisciplinary Research and Analysis. While in this role, she assisted doctoral students with their dissertation research designs and data analysis and worked closely with faculty members in their research projects and grants. She also has experience assisting businesses with data analysis and performance management. A deep interest in international education has led Dr. Chen to present at international conferences across the globe, including the Chinese American Development Association and the Research and Statistics Exchange conferences.
Bruno Jorge
Biography coming soon