Master of Education in Bilingual Education
The Master of Education in Bilingual Education program is a 36-hour, non-thesis program designed for practicing teachers and administrators who desire continued growth and expertise as professionals, specializing in the area of bilingual and multilingual education. DBU professors will immerse students in current bilingual practices and theories through challenging coursework and engaging instruction.
More than an Education
Learning experiences and assignments in this program are designed to provide the learner with sufficient theoretical and experiential knowledge to serve successfully as a bilingual education specialist in the role of classroom teacher or program administrator. Armed with instruction from a Christian world view, graduates will bring faith and ethics to the field of education and apply their skills and knowledge from a distinctly Christian viewpoint.
Marked by Service
Service-learning at DBU is a teaching and learning strategy that integrates academic instruction, community service, and guided reflection from a Christ-centered, faith-based perspective in order to enhance student learning, to foster global civic responsibility, and to develop servant leaders.
"Literacy is fundamental for academic success. DBU's M.Ed. in Bilingual Education degree will equip you with the tools to identify reading difficulties and apply literacy strategies that will change someone's life. I look forward to helping you achieve your academic goals and career calling!"

- Dr. Adelita Baker, Program Director
214-333-5515 | adelita@dbu.edu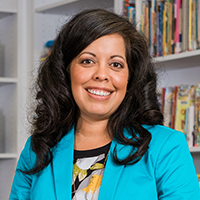 Our program provides graduates with the upper hand to educate in the fields of Dual Language Specialization, English as a Second Language, and Multilingual Specialization through the different tracks provided.
Specializations
Dual Language Specialization
English as a Second Language / Multilingual Specialization
Admission Requirements for the M.Ed. in Bilingual Education
3.4 GPA or higher: no entrance exam required
Satisfactory score on the Miller Analogies Test (MAT) or Graduate Record Examinations® (GRE®).
The admission requirements listed above are specific to this degree program and are supplemental to the Graduate School's requirements for Full Admission. Admission to one graduate program does not guarantee admission to another. Applicants who show potential for graduate study, but do not meet the criteria for Full Admission, may be admitted for up to 12 hours under provisional status. Students admitted under Provisional Admission will be granted Full Admission upon successful completion of 12 credit hours and fulfillment of the conditions of their admission as determined by the Master's Degrees Admission Committee.
Full Admission Requirements | International Admissions | Transfer Admissions