Your Counselors
Our Admissions team is here to help you through the entire process, from your very first question until the day you step foot onto campus to move in!
Get to know our team and find your admissions counselor below!  Book an Appointment>>
First-Year Counselors
---
---
---
---
Transfer Counselors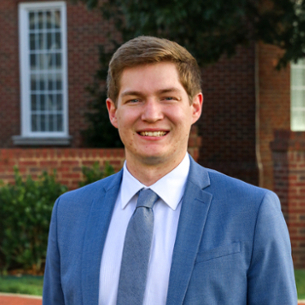 William Franklin
Admissions Counselor, Transfer Students with Last Name A-M
Name: William Franklin
Education: Bachelors in Business Administration in Management
Favorite Thing about DBU: DBU genuinely wants the best for all the students who come through their door from the beginning of the admissions process, whether the student decides to come to DBU or not.
Favorite Scripture: "God shows his love for us in that while we were still sinners, Christ died for us." Romans 5:8 
Hobbies: Reading, spending time with friends, trying new restaurants and coffee shops.
Email:  will@dbu.edu
Phone: (214) 333-5464
---
Guyton Garland
Transfer Counselor, Transfer Students with Last Name N-Z
Name: Guyton Garland
Education: Bachelor of Business Administration in Marketing
Favorite Thing about DBU: Christ-centered education is the focus of what we do as a University. This godly aspiration is both glorifying to God and good for the people of God as they are further equipped for the teaching and expanding of his kingdom. This is easily the most beautiful thing we do while also being the most enriching thing we do.
Favorite Scripture: "In the year that King Uzziah died, I saw the Lord, high and exalted, seated on a throne; and the train of his robe filled the temple. 2 Above him were seraphim, each with six wings: With two wings they covered their faces, with two they covered their feet, and with two they were flying. 3 And they were calling to one another:
     'Holy, holy, holy is the Lord Almighty;
      the whole earth is full of his glory.'" Isaiah 6:1-3
Hobbies: Reading, coffee, hunting, and being around people.
Email:  ggarland@dbu.edu
Phone: (214) 333-7233
Directors
---
---
---
---