Transfer Students
Whether you're ready to make the jump from a community college to a university, looking for something different than your current school, or just eager for a change of scenery, we are excited to welcome you to the DBU Family! We have specific admissions counselors for our transfer students who are prepared and well trained to make your transfer to DBU hassle-free.
Discover How Many Hours You Can Transfer!
Use our free transcript evaluation tool today to identify which of your college credits may transfer to DBU! 
Follow these steps to begin the process:
Visit our free transcript evaluation tool*

To begin, click the Get Started Button. 

Create a Student Account

We will ask you to fill out some basic questions that will help shape a personalized service that is unique to you and your education.

Enter your completed courses

Enter your transcript data, providing a list of courses with grades, source schools, and dates completed.

Confirm your personal info and submit

In seconds, see which courses DBU may accept and how much you can save by enrolling at DBU!
*See DBU's Transfer Credit Policy for full details on transferring credit to DBU.

Helpful Information for Transfer Students
Transfer Admissions
The admissions process for transfer students is similar to the process for any other incoming student. Follow these admissions steps and keep an eye out for details specific to you as a transfer student!
Scholarships for Transfer Students
As a transfer student, there are many scholarships you are able to apply for, including some unique to you! Head to the Scholarships page to browse through DBU scholarships as well as information about applying for private scholarships.
Housing for Transfer Students
Eager to live on campus? We can't wait to have you! Transfer students with more than 30 credit hours are eligible to live in upperclassmen housing. Make sure to complete the housing application when it becomes available and you will be on your way to life on the hill!
Submitting Transcripts
One important step toward becoming a DBU Patriot is getting your transcripts from all previous colleges or universities evaluated. As soon as you finish the application be sure to get any transcript you might have evaluated and submitted to DBU as soon as possible!
Transcripts can be emailed to records@dbu.edu or sent via mail to:
Dallas Baptist University
Office of Admissions
3000 Mountain Creek Parkway
Dallas, TX 75211-9299

Transfer Testimonials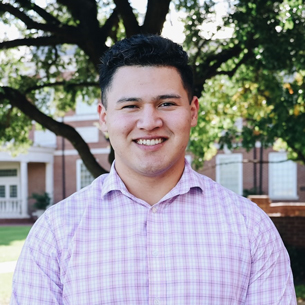 "When I transferred to DBU, I was a little scared to transition from a community college to a university. I did know if I would be ready and how I would react to this transition. However, the faculty and staff at DBU helped me through the whole process. Everyone cared for me when I needed help and mentored me when I had questions.

I am now a senior and the last three years have been a dream. I am so thankful for this university and the way the Lord uses it to extend His Kingdom."

Brayan Orellana, First-Generation College Student
Marketing Major
"I had gone to a different university for two years and did not have a great experience. I prayed about transferring to a different university, and the Lord brought me DBU. I was very apprehensive to even apply, as it was a month before classes started but the Lord provided so much peace about trying. The Lord provided everything I needed to be at DBU, and I started classes that month.

My time at DBU was a wonderful experience. My fear as a transfer student was that I would have a hard time making friends and getting involved on campus, as I had a later start than the traditional college student. The Lord quickly dispelled my fears as people warmly welcomed me and pursued me.

I learned at DBU what true Christian community looks like through my roommates, friends, and girls in my sorority on campus. I quickly became involved in clubs and organizations and had opportunities to serve the community around me. The Lord used my classes to teach me what He has for my future, and how to pursue Him in my calling.

The Lord used my time at DBU to prune and mold me into a young lady that represents Christ. I thank the Lord for the years I have called DBU home, and I pray the Lord is continually glorified through my actions after the foundation DBU provided me."

Kelsey Whaley, Homeschool Student
B.A. in Sociology, Master of Arts in Global Leadership Student