Biographical Information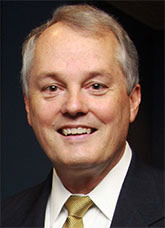 General
Dr. Gary Cook has been Chancellor of Dallas Baptist University since February 2015, when he announced he was stepping aside from his role as President, which he had held since 1988. From then through May 2016, he continued to serve as President and Chancellor until the election of Dr. Adam Wright as DBU's new president.
During Dr. Cook's tenure as president, the University grew from 1,859 students in the fall of 1987 to 5,319 in the fall of 2015. The University's net assets grew from $19.9 million to $171.5 million, and the University finished each fiscal year in the black for the last 26 years. The campus expanded from 200 acres to 292 acres. Average SAT scores for incoming DBU freshmen were raised from 887 in 1992 to 1118 in 2015. In addition, 81.7% of full-time faculty held doctorates or terminal degrees, compared to 52% in 1988. Another 9.5% of the full-time faculty were currently working on a terminal degree.
In the fall of 2005, DBU began its first Honors Program for undergraduate students. For two years, professors representing each discipline on campus met to formulate a plan and curriculum that would rigorously challenge academically gifted DBU students as well as attract future students interested in honors courses. The Honors Program consists of special honors sections of core curriculum courses, directed readings and seminar courses in a variety of topics, and special opportunities for studies abroad.
The number of master's degree programs increased from three in 1988 to 28, while graduate enrollment increased from 187 in the fall of 1987 to 2,004 in the fall of 2015.
A Ph.D. in Leadership Studies program began in the summer of 2005, and an Ed.D. in Educational Leadership program began in the fall of 2005. In the spring of 2004, the DBU board of trustees voted to name a new academic division of the University the Gary Cook School of Leadership. (See DBU Report Article on Naming)
Dr. Cook formerly served on the administrative staff of Baylor University in Waco for ten years. During that time, he taught at least one undergraduate or graduate class each semester. His responsibilities at Baylor included serving as Administrative Coordinator of the Gerontology Program, Assistant Chaplain, Director of Denominational and Community Relations, and Special Assistant to the President for Denominational Relations. Before serving at Baylor, he served as pastor of First Baptist Church of McGregor, Texas. He also has served ten interim pastorates.
Education
Dr. Cook has a Bachelor of Arts degree from Baylor University, a Master of Arts in Aging Studies from the University of North Texas, a Master of Divinity from Southern Baptist Theological Seminary, and a Doctor of Ministry from Southwestern Baptist Theological Seminary. Dr. Cook serves as Permanent President for the Class of 1972 at Baylor University. He also served as Graduating Class President for the Class of 1975 at Southern Seminary.
Family
His wife, Sheila, received her bachelor's degree from Georgetown College and her master's degree in education from the University of Louisville. She served as a teacher in the public school system for 18 years. They have two sons, David Daniel (1983) and Mark Andrew (1986). David is married to Nicole Dodson Cook, and they have three children, Molly, Caleb and Gracie.
Civic Involvement
Dr. Cook has served as a member of the International Board of Directors of Habitat for Humanity, on the Executive Committee of the Independent Colleges and Universities of Texas, as chair of the Finance Committee of the Association of Texas Colleges and Universities, on the board of directors of the Dallas YMCA, as a member of the board of trustees and executive committee of Baylor College of Dentistry, as a member of the Baylor Oral Health Foundation, and as chairman of the Education Division of the Dallas United Way Campaign. He currently serves as chairman of the Board of Trustees of Baylor University Medical Center.
He has also served as a member of the Waco City Council and Mayor Pro Tem of Waco. He formerly served as founding president of the Waco Conference of Christians and Jews, founding president of the Samaritan Counseling Center, and founding president of the Waco Christian Society for the Arts. He also served as president of the Arthritis Foundation of Central Texas, the Waco Ministerial Alliance, and the Greater Waco Beautification Association. He is a Senior Active Member of Rotary International and a Paul Harris Fellow. He was appointed by George Gallup to serve as a Fellow of the Gallup International Institute.
Aging-Related Involvement
Dr. Cook was appointed by Governor William Clements to serve a four-year term on the nine-member Texas Board on Aging. Congressman Marvin Leath asked Dr. Cook to serve as his delegate to the White House Conference on Aging in 1981. Dr. Cook was appointed by Governor George Bush to serve as a delegate to the White House Conference on Aging in 1995. In 2004, Dr. Cook was appointed by Governor Rick Perry to serve as a founding member of the OneStar Foundation. Dr. Cook formerly held office as chairman of the Waco Council of Senior Citizens and the Waco Baptist Association Senior Adult Council and served as the coordinator of his church's Meals on Wheels program for five years.
Awards and Honors
Dr. Cook was a recipient of the Outstanding Young Wacoan award presented by the Waco Jaycees in 1983. He received the Waco Humanitarian Award presented by the Waco Conference of Christians and Jews in 1985. He also received the Outstanding Young Alumnus Award given by the Baylor Alumni Association in 1987. In 2000, he was recipient of the Distinguished Alumni Award presented by Southwestern Baptist Theological Seminary in Fort Worth, Texas. In 2003, he was recipient of the Distinguished Alumni Award presented by Baylor University. In 2007, he received the Distinguished Alumni Award presented by Southern Baptist Theological Seminary in Louisville, Kentucky. He is listed in Who's Who in America, Who's Who in the South and Southwest, and Who's Who in American Education. In 2009, Marketplace Ministries presented Dr. Cook with the Integrity Award for Integrity in Education. In 2011, Dr. Cook was named an Honorary Alumnus of the Baptist University of Americas.
Church-Related Involvement
Dr. Cook and his family are active members of Park Cities Baptist Church, where he serves as a deacon. He has been involved with the Baptist World Alliance since he was a college student. He was a charter member of the BWA General Secretary's Circle and currently serves as chair of the Promotion and Development Committee.  He has also served as chair of the Consortium for Global Education. In addition, Dr. Cook served as a member of the steering committee of the Billy Graham Metroplex Mission. He formerly served on the Board of Directors for the Council for Christian Colleges and Universities.