A Message from the Dean, Dr. DeAnna Jenkins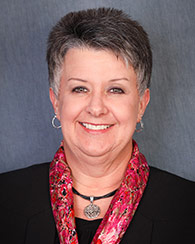 Thank you for choosing to find out more information about the Dorothy M. Bush College of Education here at Dallas Baptist University. The mission of DBU is to produce leaders who have a heart to serve the world, and what better way to serve the world than though the classroom.
At DBU, you will find a variety of education preparation programs, as well as graduate programs designed to hone education skills in order to best prepare individuals to train up the next generation of leaders. We challenge our students to be excellent in their work, not only because of our commitment to our faith, but also because schools need excellent teachers and administrators to push and challenge their students.
A unique aspect of our College is our ability to draw from years of real-work and in the classroom experience. The education faculty have a combined 493 years of teaching experience in the public, private, and charter school system. Many are former teaching leaders, principals, or superintendents, and each provide a practical perspective in the midst of theoretical teaching.
Whether you are called to curriculum development, school counseling, high school history, education administration, kinesiology, elementary education, or a variety of other fields, DBU has the program to help make your calling a career. Let us help you begin that journey.
Dr. DeAnna Jenkins,
Dean College of Education