Master of Education in Curriculum and Instruction
The Master of Education in Curriculum and Instruction is a 36-hour degree program focused on equipping students to be leaders in the field of education. This program prepares its graduates for careers such as Curriculum and Instruction Directors, Curriculum and Content Coordinators, Academic Specialists/Facilitators, Instructional Coaches, Grade Level/Department Chairs, and many more. The professors in our program equip our graduate students with the knowledge and tools necessary to lead endeavors in curriculum and instruction in order to bring about student success.
More than an Education
Experiential learning, relevant application, and thorough research provide a unique educational experience for students in the Master of Education in Curriculum and Instruction program. Each of the classes has been researched and tailored to the work in your schools as an instructional leader or a  curriculum designer. This degree will also engage you in those higher levels of learning within an environment of support and care. Our vision for you – as a change agent impacting the lives of all of those you serve, will be communicated in and through each class. Educators have a mighty task before them, and students in the M.Ed. in Curriculum and Instruction go out into their spheres of influence equipped and ready for the work at hand!
Marked by Service
Service-learning at DBU is a teaching and learning strategy that integrates academic instruction, community service, and guided reflection from a Christ-centered, faith-based perspective in order to enhance student learning, to foster global civic responsibility, and to develop servant leaders.
"I am eager for the opportunity to walk with you as you prepare for this next chapter of service in our life. Your work matters, and I will do all that I can to support your vision and call in the world of education, and specifically, in learning technologies."

- Karla Hagan, Program Director
214-333-5831 | karla@dbu.edu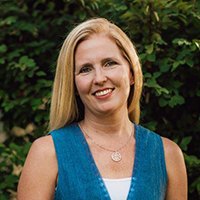 Get Connected with your Program Director
Our program provides several options to customize your master's degree with dual degrees and advanced certificates.
Admission Requirements for the M.Ed. in Curriculum and Instruction
There are no requirements additional to the Graduate School's requirements for Full Admission.
The admission requirements listed above are specific to this degree program and are supplemental to the Graduate School's requirements for Full Admission. Admission to one graduate program does not guarantee admission to another. Applicants who show potential for graduate study, but do not meet the criteria for Full Admission, may be admitted for up to 12 hours under provisional status. Students admitted under Provisional Admission will be granted Full Admission upon successful completion of 12 credit hours and fulfillment of the conditions of their admission as determined by the Master's Degrees Admission Committee.
Full Admission Requirements | International Admissions | Transfer Admissions