Private Scholarships
We know you can't do your best academically if you are worried about financing your education. That is why we created DBU's Office of Scholarship and Grant Resources.
Scholarship Opportunities 
This office specializes in finding outside resources for students. Private scholarships are gifts funded by local banks, trusts, foundations, and other organizations that go directly to students' accounts. Leslie Moulton, Director of Scholarship and Grant Resources, has researched and developed relationships with these private foundations and organizations over the last 10+ years, and this research has been compiled into a database that students have access to through their MyDBU Account (my.dbu.edu) on the "Scholarship Opportunities" tab.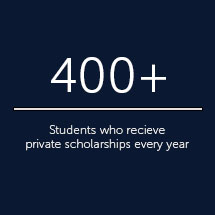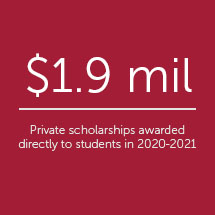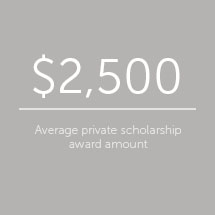 Which scholarships can I apply for? 
These private scholarships are sorted by due date and can be broken down into different categories such as: highly recommended, heritage, region/residency, military affiliation, health conditions, major, etc.! The majority of private scholarships are for traditional-age undergraduate students with financial need. The best time to apply is in the springtime, between January and May. All private scholarships that students apply for in the spring go towards the following school year.
Which scholarships are for me?
If you are a currently enrolled student or a prospective student who has paid the enrollment fee, schedule a time to meet and discuss available financing options with our caring staff by emailing scholarships@dbu.edu or calling 214-333-6939. You will learn more about the wide selection of vetted private scholarship and grant programs listed in your MyDBU Account.
There are more opportunities for financial help out there than you might think, and we want you to help you find them. Ultimately, we want to help you fund your education, so you can be successful as a DBU student and in your calling beyond graduation day.
Additional Helpful Resources