Why Give?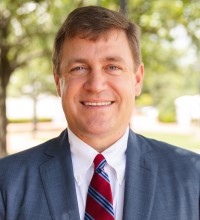 Ryan Hefton
Vice President for Advancement
ryanh@dbu.edu
214-333-5424
Dallas Baptist University strives to be an institution that is pleasing to our Lord. With this in mind, we pray that as DBU graduates leave University Hill, the Lord will use them in His work throughout the world. As students walk across the graduation stage at Dallas Baptist University, we know they have received a world-class education, been taught through the lens of a Christian worldview, and are prepared to excel through service, whatever their calling may be. With more than 5,000 students and over 34,000 graduates, DBU is making a difference, and we need your help.
Dating back to 1898, Dallas Baptist University has risen from humble beginnings in Decatur, Texas to become an institution known worldwide for its Christian commitment and production of servant leaders. We see God's hand at work on our campus daily and invite you to be a part of what He is doing here. Your gift to DBU will not only impact the students of today, but it will also help shape future students at Dallas Baptist University. I commit to you that we will be good stewards of any investment you make to help us fulfill our vision of what the Lord has called us to do here at DBU.
Will you partner with us in the work God is doing here?