Leave a Legacy of Enduring Significance
The DBU Legacy Society recognizes individuals who have chosen to place DBU in their will or other deferred plans of giving, such as life insurance, bequests, and trusts.
Consider blessing students and making a Kingdom impact for generations to come by giving to DBU through planned giving opportunities.
If you have chosen to place DBU in your will or trust, please complete the following form of intent, so the University may recognize you as a formal member of the Legacy Society.
Members of the DBU Legacy Society are honored with a tile on the Legacy Wall in the Hillcrest Great Hall of the Mahler Student Center, receive a commemorative DBU afghan, and are invited to attend the annual Legacy Society luncheon on University Hill each December.
For questions about deferred plans for giving or joining the DBU Legacy Society, please contact John Clem at johnc@dbu.edu or 214-333-5176.
What Kind of Legacy Will You Leave?
"We decided to join the Legacy Society because of how much the Lord has done in our lives through the people at DBU. We felt there was no better response than to give back to the university that has given so much to us!"
- Brittni ('15) and Zach ('14, '17) Bean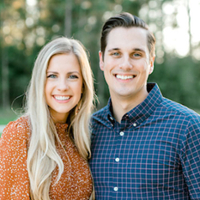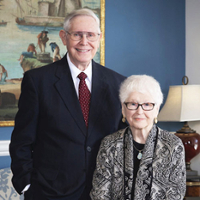 "We feel strongly, through God's nudging, that DBU will carry the Gospel and the Kingdom of God forward. It is a privilege to invest in something you can tell is making a difference."
- Dr. Bill and Bobbie Pinson, Legacy Society Members