A Gift that Changes a Life
DBU is proud to educate students from across the United States and over 60 countries in a Christ-centered environment that cultivates the mind, heart, and soul.
Students receive exemplary instruction and care from distinguished faculty, support from administration, opportunities for spiritual development and renewal, alongside access to a community of peers for relationships that will last a lifetime.
The collegiate experience at DBU provides a foundation for excellence which can be carried into any and every vocational sphere. Our graduates are leaders in business, education, finance, government, medicine, as well as in their homes, churches, and communities.
What Students Are Saying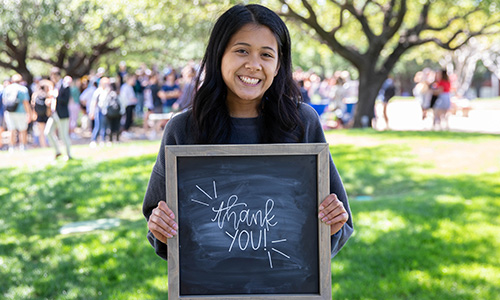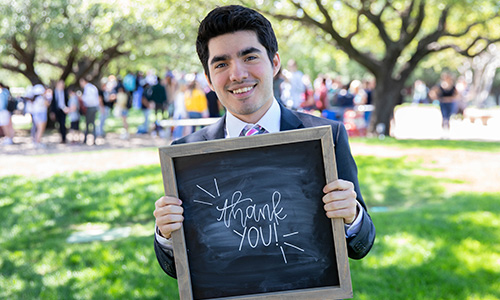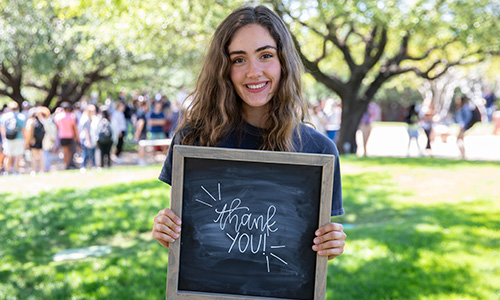 "DBU has truly shaped my life in the best way possible. Because of the generosity of friends of DBU, I have been able to pursue my calling while also integrating faith in all aspects of development. I am forever grateful for these individuals and their investment in students, their belief in our academic pursuits, and in the mission of this university."
- Stella Cofoid
"Being the recipient of DBU scholarships has given me peace of mind. It has allowed me to not worry as much about finances but instead, focus on the academic endeavor ahead. It's also nice to know that someone believes in me; through the support given by generous donors, I am able to continue pursuing my calling and my dreams."
- Sammy Lac
"Scholarships have allowed me to attend DBU. With this support, I was able to complete my undergraduate degree without having to worry about how I could afford tuition. I am immensely thankful for the generosity of our donors."
- Elizabeth Christian
"I am beyond grateful for the kindness and generosity of our donors! While finances can be stressful, these scholarships have allowed me to fulfill the Lord's call on my life to earn a degree at DBU. I thank our donors for believing in my academic success and providing for so many DBU students."
- Caleb Rogers
"DBU scholarships have been such a blessing for me and my family. Regardless of my financial situation, it gives me certainty in where I am and what I am called to do when the Lord provides. Through the gift of these scholarships, I have been able to grow as a servant leader at Dallas Baptist University."
- Santiago Rodriguez
"The Scholarships provided by DBU have greatly blessed and motivated me to help pursue the calling the Lord has placed on my life. Receiving the Christian Leadership Scholarship, in particular, has encouraged me to serve in local churches in the Dallas area, volunteer for non-profit organizations, and participate in on-campus ministries."
- Adom Spencer
"There is no university like DBU. I believe the Lord placed me here for a unique and intentional purpose. Because of this, I feel insurmountably blessed to be the recipient of Dallas Baptist University scholarships that are made available and possible by gracious and faithful donors. These scholarships grant me the ability to pursue an education that honors and glorifies our Savior. These scholarships allow me to be a Patriot."
- Ryan Fitch
"Though a massive understatement, I have benefited wildly from Dallas Baptist University scholarships. I can confidently say that there is no way I would be where I am without these scholarships and the faithfulness of those providing them. I am endlessly thankful and pray that those donating to DBU realize the eternal value in their generosity."
- Megan Babler
"DBU scholarships are the tool God used to make a way for me to come to this university; without them, I would not be able to attend here. It was an immeasurable blessing when scholarships opened up, presenting me with the opportunity to come to my dream university! I want to thank the donors of DBU because they have given me an opportunity to further my education in an environment that develops my creative and communication abilities, but even more importantly, equips me with Truth and supports my spiritual growth."
- Bethany Sikute
"The scholarships I have received from Dallas Baptist University are widely the reason I'm able to attend this lovely university. I am immensely grateful for the scholarships that I have received because they have not only brought me here to DBU but have also helped me grow as a person. Because of scholarships like the Christian Service Scholarship and Christian Leadership Scholarship, I now have a better sense of servitude and how to be a Christian leader."
- Alexie Temple