M.A. in Children's Ministry
Preparing Children for Life
Available Online!
The M.A. in Children's Ministry prepares you for the enormous privilege of helping children to follow Christ for their lifetime. The specialized training in this degree program increases your ministry potential to reach more children and families with life-changing ministry and biblical solutions that address contemporary needs.
"Let the little children come to me…for the kingdom of God belongs to such as these." — Mark 10:14
How Our Graduates Impact Their World
Many graduates serve in church-related positions as a Children's Minister. Many also serve in public or private schools, community weekday programs, and para-church organizations, including a focus on curriculum development.
Experienced Faculty. Servant Leaders.
Learn from faculty practitioners who teach not only from the textbook but also from their ministry experience to combine depth of knowledge with the breadth of real world application.
Designed to Meet Your Needs
We enable you to pursue graduate study while balancing career, family, and ministry. DBU graduate students have many options for completing their degree, including schedule flexibility and financial aid.
Course Convenience
Online Courses
Hybrid Courses (Part Online, Part Classroom)
Evening and Weekend Courses
The Degree Program
The 36-hour M.A. in Children's Ministry consists of:
18 hours, Core Requirements
9 hours, Children's Ministry Requirements
9 hours, Concentration in one of the following:
General or Special Needs Children's Ministry
Program Goals
Understand and apply servant leadership in the church and community
Learn ministry strategies to address the developmental needs of children
Create ministry strategies that help families
Synthesize theology, educational philosophies, and biblical leadership skills
Evaluate best practices, current trends, and models of Children's Ministry
Meet the Director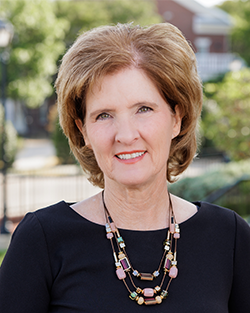 Dr. Shelly Melia
Program Director
Email: shelly@dbu.edu
Phone: (214) 333-5943
Pilgrim Suite 301B
The most important responsibility we have as parents is to help our precious children develop their own personal relationship with Jesus. As a minister to children and families, we are called to help parents in the same mission. We have a great privilege and responsibility in helping to develop the next generation of Jesus followers.
At DBU, we want to equip you to create ministries and environments that point children to Jesus and that support parents along the journey. As you look over our degree options and consider how they can prepare you to fulfill your calling, feel free to get in touch with us. We would love to pray with you as you seek God's will in your life, and if you have any questions about our degree programs, please contact our program office by email or phone. We would love to assist you.
Listen to Dr. Melia speak about developing a philosophy in Children's Ministry.
FORGE
DBU's Graduate School of Ministry and Pine Cove's Forge have partnered to allow Forge alumni to earn up to 18 hours toward a master's degree offered through the Graduate School of Ministry.
BGCT
BGCT's Childhood Ministry Certification can help you earn 3 hours towards your M.A. in Children's Ministry.
Sky Ranch
Tuition free master's degrees! The partnership between DBU's Graduate School of Ministry and Sky Ranch provides participants in their Legacy Fellowship the opportunity to pursue one of eight online ministry degree programs, paid for by Sky Ranch, while gaining invaluable real world experience at the same time. Visit the Sky Ranch website for more information.
Joni and Friends
The DBU Graduate School of Ministry and Joni and Friends partnership provides participants in the Joni and Friends' University Affiliated Internships program the opportunity to earn three credit hours towards a master's degree offered through the Graduate School of Ministry. Cause 4 Life Interns receive training on disabilities from a biblical worldview and the theology of suffering through practical application by serving families affected by disability. Visit the Joni and Friend's Cause 4 Life website for more information.
Accelerated Degrees
Are you a current or prospective Undergraduate student? Get your Master's faster with our Accelerated Degree Programs.
Advanced Certificates
Wanting to pursue graduate studies, but not ready to complete a master's degree? Consider an Advanced Certificate Program!
DBU's Ministry-Related Master's Degrees provide Christ-centered graduate level training for ministry leaders, equipping them with a biblical, theological, historical, and practical foundation for ministry.
Enhance your ministry by pursuing a master's degree.