M.A. in Global Leadership
Where Faith Joins the Global Dialogue
Designed for global-thinking leaders who aspire to forge new paradigms for working in international or multicultural environments, the Master of Arts in Global Leadership explores ways to lead in today's rapidly changing world of globalization, resurgent cultural values, religions, clashing worldviews, professional domains, and business ventures. Students must be highly motivated self-starters with innovative ideas who are eager to make a difference in the world. Global Leadership consists of connecting with people in other cultures and societies around the world and finding ways to exert a positive influence in their lives. Learning cultural intelligence and understanding multi-ethnic dynamics are crucial skills for leadership in today's increasingly multi-cultural and multi-ethnic environments.
Graduates have strong intercultural skills with a calling to Christian ministry, and often serve as 21st century missionaries, missions mobilizers, church planters, kingdom professionals doing business as missions, Ministers of Missions on a church staff, cell group leaders or house church workers, denominational and parachurch organization leaders, or doing non-traditional ministry in urban and intercultural settings.
"...you will be my witnesses in Jerusalem, and in all Judea and Samaria, and to the ends of the earth." — Acts 1:8
How Our Graduates Impact Their World
The 21st century missionary does not resemble that of previous centuries. Therefore, our degree program is flexible to prepare students for a variety of callings-including missions, church planting, non-profit ministry, and urban ministry. However, it also prepares graduates for effective Christian witness and ministry in non-traditional settings such as teaching English as a second language, denominational service, work at non-profit organizations, and the international marketplace.
Experienced Faculty. Servant Leaders.
Learn from faculty practitioners who teach not only from the textbook but also from their ministry experience. We intentionally integrate Christ-centered, servant leadership principles into every aspect of study-from the courses students take, to the professors who teach. This DBU distinctive sets our program and our graduates apart.
Designed to Meet Your Needs
We enable you to pursue graduate study while balancing career, family, and ministry. DBU graduate students have many options for completing their degree, including schedule flexibility and financial aid.
Course Convenience
Online Courses
Hybrid Courses (Part Online, Part Classroom)
Evening Courses
Synchronous Livestream Courses
The Degree Program
The 36-hour M.A. in Global Leadership consists of:
21 hours, Core Requirements
3 hours, Elective
12 hours, Concentration in one of the following:
Missions, Global Studies, Church Planting, ESL, Urban Ministry
View Full Degree Plan
View Course Descriptions
Program Goals
Integrate Christian faith and leadership with a global perspective
Understand and engage intercultural complexities and relate in positive ways to others in a global context
Develop cross-cultural skills to navigate a global social, ministry, and work environment
Discover strategies for enhancing quality of life in different cultural contexts
Integrate theory and practice in meaningful global service and successful multi-cultural leadership
Meet the Director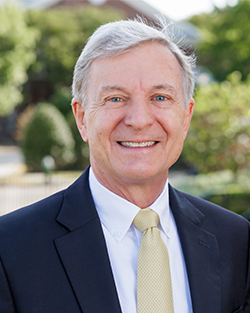 Dr. Mark Alexander
Program Director
Email: marka@dbu.edu
Phone: 214.333.5929
Pilgrim Suite 304E
We live in a big world full of challenging cultures and daunting worldviews, but with time-proven principles, you can engage people with the Gospel even when they think differently and behave in ways that at first seem hard to understand. The M.A. in Global Leadership helps today's leaders understand those principles and exert a positive influence for Christ wherever in the world God takes them. As veteran missionaries, we want to pass on skills and insights that equip cross-cultural workers, kingdom professionals, and church planters to use best practice strategies. We seek to enable students to serve God and share the Gospel with all people everywhere. If you are called to the mission field, to non-traditional ministry outside the scope of what most churches are doing, or to engage people beyond where other Christians are serving, come and join us today!
FORGE
DBU's Graduate School of Ministry and Pine Cove's Forge have partnered to allow Forge alumni to earn up to 18 hours toward a master's degree offered through the Graduate School of Ministry.
Sky Ranch
Tuition free master's degrees! The partnership between DBU's Graduate School of Ministry and Sky Ranch provides participants in their Legacy Fellowship the opportunity to pursue one of eight online ministry degree programs, paid for by Sky Ranch, while gaining invaluable real world experience at the same time. Visit the Sky Ranch website for more information.
Accelerated Degrees
Are you a current or prospective Undergraduate student? Get your Master's faster with our Accelerated Degree Programs.
Advanced Certificates
Wanting to pursue graduate studies, but not ready to complete a master's degree? Consider an Advanced Certificate Program!
DBU's Ministry-Related Master's Degrees provide Christ-centered graduate level training for ministry leaders, equipping them with a biblical, theological, historical, and practical foundation for ministry.
Enhance your ministry by pursuing a master's degree.