Meet Dr. Mark Alexander
Master of Arts in Global Leadership Program Director
Professor of Missions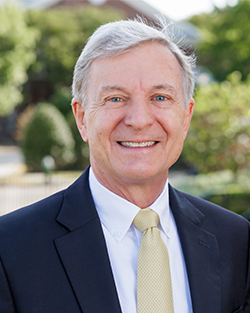 Educational Background
B.A., Baylor University
M.Div., Southwestern Baptist Theological Seminary
Ph.D., Southwestern Baptist Theological Seminary
Dr. Mark Alexander's Background
Mark Alexander is the Director of the Master of Arts in Global Leadership and Professor of Missions at DBU. Mark holds 3 degrees: a Bachelor of Arts (1979) from Baylor University in Waco, Texas; and both a Master of Divinity (1982) and a Ph.D. (2004) from Southwestern Baptist Theological Seminary in Fort Worth, Texas.
Mark and his wife Karen pastored a two-church field in Buckingham County, Virginia, for a little over three years before they were appointed as missionaries to Argentina with the Foreign Mission Board (now International Missions Board, SBC). They spent a total of twenty-five years serving in the city of Córdoba, Argentina. Their work included church planting, student ministry, associational missions, and theological education. In the course of these years, they also raised three children: Ariel, Lucas, and Steven.
At DBU, Mark teaches a variety of classes pertaining to missions and cross-cultural ministry.
Related DBU Campus News Articles
DBU's Ministry-Related Master's Degrees provide Christ-centered graduate level training for ministry leaders, equipping them with a biblical, theological, historical, and practical foundation for ministry.
Enhance your ministry by pursuing a master's degree.