A Message from the Dean, Dr. Brent A. Thomason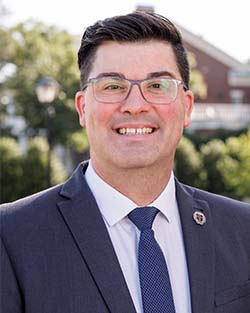 The world needs Biblical Servant Leaders. Is God calling you to serve Him in the local church, a para-church organization, global missions or another Christian organization? There are so many ways to serve our great God in this 21st century. The Graduate School of Ministry provides training for individuals who sense God's call to ministry. These university model degree programs are designed to prepare students to impact culture through practical ministry in the church, community, and the world. Dallas Baptist University seeks to prepare those called out in ministry and has developed a cutting edge course of study with degrees in Children's Ministry, Christian Counseling, Christian Ministry (including a Chaplaincy Program), Educational Ministry Leadership, Family Ministry, Global Leadership, Theological Studies, and Worship Studies.
The uniqueness of DBU's graduate degrees in ministry, as opposed to a traditional Seminary model, is that as a University, we have the opportunity to dual the ministry degrees with other DBU Graduate degrees like the Master of Business Administration, Master of Arts in Management, and Master of Arts in Professional Counseling. This gives the student of ministry the opportunity to refine their course of study into a very specific academic pursuit, earning dual master's degrees in order to prepare for the work to which God has called. The schedule of classes is built upon evening classes, flex, hybrid, and online classes. This allows those adults already working full-time the opportunity to pursue a graduate degree in a timely fashion. The mission of the Graduate School of Ministry integrates biblical foundations of Christian faith and values with professional academic studies. The goal of the Graduate School of Ministry is to develop lifelong ministry scholars and practitioners, thus supporting Dallas Baptist University's mission of producing effective servant leaders who serve throughout the world with distinction.
Dr. Brent Thomason, Dean
Graduate School of Ministry
DBU's Ministry-Related Master's Degrees provide Christ-centered graduate level training for ministry leaders, equipping them with a biblical, theological, historical, and practical foundation for ministry.
Enhance your ministry by pursuing a master's degree.