Meet Dr. Brent Thomason
Dean
Professor of Biblical Studies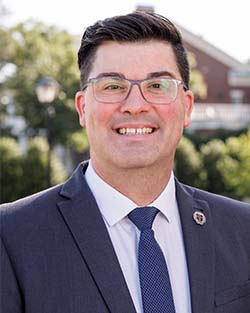 Educational Background
B.A., Dallas Baptist University
M.Div., Southwestern Baptist Theological Seminary, Fort Worth
Th.M., Evangelische Theologische Faculteit, Leuven, Belgium
Ph.D., University of Durham, UK
Dr. Brent Thomason's Background
Brent Thomason is the Dean of the Graduate School of Ministry and Professor of Biblical Studies at DBU. Brent holds 4 degrees from 3 different countries: a Bachelor of Arts (2006) from Dallas Baptist University in Dallas, Texas; a Master of Divinity (2008) from Southwestern Baptist Theological Seminary in Fort Worth, Texas; a Master of Theology (2011) from Evangelische Theologische Faculteit in Leuven, Belgium; and a Ph.D. (2016) from the University of Durham, U.K.
Brent has lived overseas with his wife Aline in Germany for 4 years and for 2 years in the U.K. While living abroad, Brent traveled to over 20 countries to learn about cross-cultural leadership and what church ministry looks like in different cultures. Together, Brent and Aline have three children: Ben, Lars, and Lea.
At DBU, Brent teaches a variety of classes pertaining to biblical studies, missions, cross-cultural leadership, and cultural intelligence.
Related DBU Campus News Articles
DBU's Ministry-Related Master's Degrees provide Christ-centered graduate level training for ministry leaders, equipping them with a biblical, theological, historical, and practical foundation for ministry.
Enhance your ministry by pursuing a master's degree.