M.A. in Christian Ministry
Meaningful Ministry Training at the Graduate Level
The M.A. in Christian Ministry program explores general concepts of ministry to equip students for a lifetime of service in a variety of church or church-related contexts. The degree is highly flexible and designed to prepare you for your unique calling.
Students learn how to be effective pastoral ministers through practical, biblical, historical, theological, and general ministry-related courses. They also have the opportunity to apply what they learn in relevant ministry contexts and dialogue with ministry leaders in the field. A generous variety of elective courses can adapt to your personal calling in ministry, resulting in a customized degree plan.
For even the Son of Man did not come to be served, but to serve…" — Mark 10:45
How Our Graduates Impact Their World
Graduates use their skills in shepherding and servant leadership to serve as age-group ministers, pastors, and leaders in non-profit or para-church organizations. They are also well equipped to pursue roles in recreation ministry, men's and women's ministry, missions, or in denominational organizations.
Experienced Faculty. Servant Leaders.
Learn from faculty practitioners who teach not only from the textbook, but also from their ministry experience. We intentionally integrate Christ-centered, servant leadership principles into every aspect of study—from the courses students take, to the professors who teach. This DBU distinctive sets our program, and our graduates, apart.
Designed to Meet Your Needs
We enable you to pursue graduate study while balancing career, family, and ministry. DBU graduate students have many options for completing their degree, including schedule flexibility and financial aid.
Course Convenience
Online Courses
Hybrid Courses (Part Online, Part Classroom)
Evening Courses
Travel Study Opportunities
The Degree Program
The 36-hour M.A. in Christian Ministry consists of:
18 hours, Core Requirements
9 hours, Program specific courses
9 hours, Elective courses from the following programs:
Christian Ministry, Children's Ministry, Christian Counseling, Educational Ministry, Family Ministry, Global Leadership, Theological Studies, Worship Studies
View Full Degree Plan
View Course Descriptions
The M.A. in Christian Ministry also offers a Chaplaincy Program.
Program Goals
Provide a flexible, easily adaptable program of study that allows students to pursue their specific calling
Understand key biblical, hermeneutical, theological, and historical concepts relating to Christian ministry and mission
Engage in practical ministry experience through the local church and church-related endeavors
Identify the potential of various 21st century ministry contexts
Clarify one's calling to Christian ministry
Meet the Director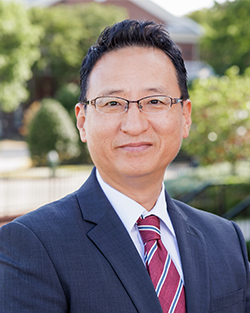 Dr. Jon Choi
Program Director
Email: jon@dbu.edu
Phone: 214.333.5375
Pilgrim Suite 304D
Somewhere today a minister is preparing a Bible study to present this evening. In the same city the executive director of a non-profit Christian agency reviews her schedule. A denominational officer clicks on his computer to evaluate a statewide ministry strategy. Is God calling you to Christian ministries like these? Over your lifetime, could Christ lead you into a variety of ministry leadership posts? If so, consider pursuing a graduate degree in general ministry that prepares you to engage in ministry wherever God leads. In the Master of Arts in Christian Ministry program, you will study church history and systematic theology, but you will also take courses that lay a foundation for ministry in diverse contexts. You can add a concentration that is specific to the direction that God has indicated in your life. Contact Dr. Choi to discuss this exciting and valuable opportunity in ministry preparation.
FORGE
DBU's Graduate School of Ministry and Pine Cove's Forge have partnered to allow Forge alumni to earn up to 18 hours toward a master's degree offered through the Graduate School of Ministry.
Sky Ranch
Tuition free master's degrees! The partnership between DBU's Graduate School of Ministry and Sky Ranch provides participants in their Legacy Fellowship the opportunity to pursue one of eight online ministry degree programs, paid for by Sky Ranch, while gaining invaluable real world experience at the same time. Visit the Sky Ranch website for more information.
Accelerated Degrees
Are you a current or prospective Undergraduate student? Get your Master's faster with our Accelerated Degree Programs.
Advanced Certificates
Wanting to pursue graduate studies, but not ready to complete a master's degree? Consider an Advanced Certificate Program!
DBU's Ministry-Related Master's Degrees provide Christ-centered graduate level training for ministry leaders, equipping them with a biblical, theological, historical, and practical foundation for ministry.
Enhance your ministry by pursuing a master's degree.