Meet Dr. Shelly Melia
Associate Dean
Master of Arts in Children's Ministry Program Director
Master of Arts in Family Ministry Program Director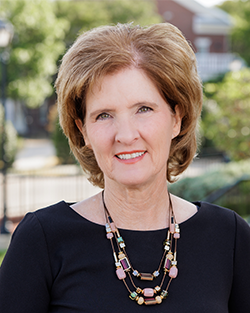 Educational Background
B.A., Oklahoma Baptist University
M.A.R.E., M.A.M.F.C., Southwestern Baptist Theological Seminary
Ph.D., B.H. Carroll Theological Institute
Dr. Shelly Melia's Background
Shelly Melia serves as the Program Director for the Master of Arts in Children's Ministry and the Master of Arts in Family Ministry at Dallas Baptist University. Prior to coming to DBU she served for over 25 years in children's and family ministry in Oklahoma, Florida, and Texas. Dr. Melia is also a Licensed Professional Counselor specializing in grief and resilience. She holds an undergraduate degree from Oklahoma Baptist University, two master's degrees from Southwestern Baptist Theological Seminary and a Doctor of Philosophy from B.H. Carroll Theological Institute.

Dr. Melia has spoken at national conferences such as ETCH Family Ministry Conference, D6 Family Ministry Conference, and the Children's Pastor's Conference. In addition, she is a frequent speaker for local churches and state conventions in Oklahoma, Texas, Georgia, Louisiana, and Missouri. Most recently, she contributed a chapter titled "The Role of Faith or Spirituality in a Child's Response to Loss" to the new book Bridging Theory and Practice in Children's Spirituality.
Related DBU Campus News Articles
DBU's Ministry-Related Master's Degrees provide Christ-centered graduate level training for ministry leaders, equipping them with a biblical, theological, historical, and practical foundation for ministry.
Enhance your ministry by pursuing a master's degree.