Meet Dr. Tom Vann
Master of Arts in Christian Ministry - Chaplaincy Program Director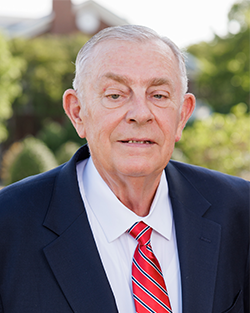 Educational Background
A.B.A. Chowan University
B.S., Mars Hill University
M.A., Denver Seminary
M.Ed., Wayne State University
M.S.S., U.S. Army War College
Th.M., Southwestern Baptist Theological Seminary
Ph.D., University of South Carolina
D.Min., Midwestern Baptist Theological Seminary
Dr. Tom Vann's Background
Tom Vann is Director of the M.A. in Christian Ministry-Chaplaincy degree program. Originally from North Carolina, he is a graduate of Chowan University and Mars Hill University with masters' degrees from Denver Seminary, Wayne State University, U.S. Army War College, and Southwestern Baptist Theological Seminary. From 1969-75 he served in the U.S. Air Force and from 1980-2004 he served as a chaplain in the Colorado Army National Guard, U.S. Army, and U.S. Army Reserve. He completed a Ph.D. in Foundations of Education from the University of South Carolina in 2000 and a D. Min. in Pastoral Theology from Midwestern Baptist Theological Seminary in 2017. Through the years he served churches as a pastor. In 2004, he was invited to the faculty of Southwestern Baptist Theological Seminary where he became Associate Professor of Pastoral Ministry. In 2010, he joined the faculty of the DBU Graduate School of Ministry. Married to Marta Atwell from California, they have six married children and eighteen grandchildren. His wife, five of their children, four of the children's spouses, and a grandson are DBU graduates. Dr. and Mrs. Vann are members of First Baptist Church of Lakeside, and he serves in an interdenominational Christian fellowship ministry in a senior adult apartment complex in North Richland Hills.
DBU's Ministry-Related Master's Degrees provide Christ-centered graduate level training for ministry leaders, equipping them with a biblical, theological, historical, and practical foundation for ministry.
Enhance your ministry by pursuing a master's degree.