A Message from the Dean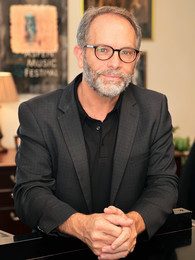 Dallas Baptist University's College of Fine Arts is in the middle of one of the nation's most dynamic metropolitan areas and centers for the visual and performing arts. The college is comprised of the departments of Visual Arts, Music, and Communication, offering innovative degrees in a broad range of fine arts programs. Here you will be challenged to think deeply, creatively, collaboratively, and entrepreneurially. An outstanding artist faculty is ready to serve you and your educational needs as well as mentor you into the next steps of an artistic career, whether that be in the profession, ministry, or graduate school and conservatory. Our goal is to help you cultivate your God-given creative skills and talents and develop into an effective artist and servant leader who will influence the world. In this, you will join a long list of alums who have, and continue, to distinguish themselves on opera/concert stages, as a university music professor, church musicians, painters, recording artists, public/private school music educators, public speakers, songwriters, graphic designers, producers, public relations professionals, and arts executives and leaders.
I hope you will consider the DBU College of Fine Arts as the place to complete your college education. We want to partner with you as an individual yet also as one who is part of a collective community seeking to be the very best we can be... Soli Deo Gloria!
If you have questions about any of our programs, or if I can be of any assistance in your decision process, please don't hesitate to call me. I will also certainly help you connect with the appropriate department chair, faculty, or staff member who can guide you.
Warmest Regards,
Wes C. Moore, D.M.A.
Dean, College of Fine Arts