A Message from the Dean, Dr. Stephen Mansfield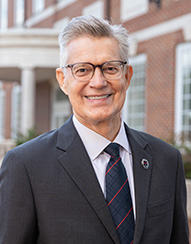 The stories of Joseph, Daniel, and Mordecai are instructive for us as we strive to honor God by providing an exceptional business education. Each was promoted to an executive-level position while maintaining a solid conviction and commitment to God. We want to provide our students with the very best education possible so they can be industry leaders, but we also want to instill in them a sense of purpose and commitment to Christ. We desire both excellence and humility.

The vision of DBU is to honor God by producing Christ-centered servant leaders who will transform the world, and our graduates are doing just that. We have alumni serving in large and small companies and nonprofit and government organizations. They serve our communities and the world as they lead various disciplines.

We are blessed to be in the DFW area and to have connections with many companies and organizations. These thriving businesses seek to hire graduates like DBU produces – graduates of character, integrity, values, depth, intelligence, emotional caring, servanthood, and excellence. We strive to instill these traits in each of our graduates.
I pray you will consider joining us as we send out servant leaders to transform the world.
Sincerely,
Dr. Stephen Mansfield
Dean, College of Business