Herb Robbins Research Symposium
On November 3 and 4, DBU Hosted the annual Herb Robbins Research Symposium, named in honor of Dr. Herbert Robbins (1929-2000), who served as Dean of the College of Natural Sciences and Mathematics at DBU from 1979 to 1994. The two-day event, sponsored in partnership with the Beta Beta Beta Biological Society, has since 2008 featured student and alumni presentations of scientific research. A few of this year's student presentations included:
"Bios Partners: Bridging the Gap Between Drug Development and Investment" - Grace Hayworth
"Navigating Underground Research in the realm of Public Health" - Caroline Hudson
"The Power of the Pump in the Water World" - Yun Chen
"The Herb Robbins Symposium has grown from the humble beginnings of a single lecture by faculty to the two-day event of student presentations," said Dr. Debra Hinson, Professor of Biology. "What a wonderful opportunity for students to hear about scientific research done by fellow students. Many of the listeners are inspired to follow in the footsteps of the presenters and seek out research opportunities."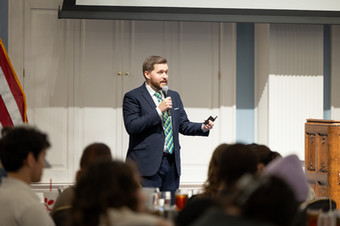 Dr. Jonathan Cooper, Chair of the Biology Department, was the Symposium's keynote speaker this year and shared with students about the importance of scientific research as well as his own insights on exploiting intracellular communication for cancer treatment. "Dr. Cooper exemplifies our commitment to bridging academic learning with real-world work in science," said Dr. Dion Fleitas, Dean of the College of Natural Sciences and Mathematics. "Dr. Cooper's journey from a DBU student to a researcher at UT Southwestern and to an esteemed faculty member and department chairperson embodies the continuous cycle of learning and growth that defines our teaching-focused institution."
Dr. Cooper completed his undergraduate studies at DBU in 2010, later earning his Ph.D. in Cancer Biology from UT Southwestern Medical Center in 2016. Dr. Cooper's postdoctoral research in the Dermatology department at UT Southwestern further honed his expertise before his return to DBU as a faculty member in 2019. 
"The Dr. Herbert Robbins Undergraduate Research Symposium is a wonderful opportunity for us to honor the memory of Dr. Robbins and to celebrate our students' research and internships in math and science," said Dr. Cooper. "It also provides an opportunity for the presenters to practice communicating complex topics in math and science with humility and confidence and in a way that is clear and accurate. These presentations also serve as an inspiration for other students, who I hope will see that they, too, can use their gifts and passion for science and math to serve in the area of research for the good of others and the glory of God."
Written by University Communications