Ed.D. Alumnus Dr. Aaron Glover: Serving as Head of School at King's Academy Christian School
DBU Alumnus Dr. Aaron Glover has a rich history of spiritual teaching. Drawn to leadership and academic excellence in his youth, called into spiritual education as a young adult, and finally accepting his new role as Head of School and Upper Campus Principal of King's Academy Christian School, his calling to inspire others to fulfill their God-given callings has always directed his path.
In his youth, Dr. Glover was already shaping into a proficient leader and academic. In his hometown of Tyler, he graduated from Whitehouse High School in 2005 as a distinguished scholar and award-winning athlete. He was voted "most talented" by his classmates. After graduating high school, he continued to pursue his calling to leadership and obtained a Bachelor of Business Administration in Marketing from the University of Texas at Tyler in 2009. After its completion, Dr. Glover felt the Lord guiding him to ministry. He later earned a Master of Christian Ministry in 2016 and an Ed.D. in Educational Leadership with a concentration in Educational Ministry Leadership in 2020 from Dallas Baptist University.
His experience at DBU profoundly impacted his spiritual and academic development. Choosing to pursue both his graduate degrees here, he not only grew as a student and educator but also found a rich community of servant leaders and grew in his own spiritual development. "I am immensely grateful that God guided me to this transformative institution," Dr. Glover shares. "The coursework and instruction I received at DBU equipped me to overcome numerous challenges in ministry, education, and leadership."
Before accepting his current position, Dr. Glover was a Bible Teacher for high school students at King's Academy while also serving as Outreach & Missions Pastor at Colonial Hills Baptist Church. He also has extensive experience in pastoral leadership, marketing, and has traveled across the country as an evangelist with "The Power Team," a group that uses incredible feats of strength as a platform to share the Gospel.
Dr. Glover serves as Head of School and Upper Campus Principal at King's Academy Christian School (KACS) in Tyler, TX. KACS is a K-12 University-Model School that partners with families to prepare students for a Christ-centered life. He is thrilled to have this fresh opportunity to positively impact the community he will be serving by applying everything he's learned about pastoral ministry and educational leadership to preparing future generations. Dr. Glover explains, "We are not only equipping students for their God-given callings but also teaching them that God intentionally and intimately created them with purpose, meaning, and value."
Dr. Glover and his wife, Emily, are blessed with four children: Mia, Carter, Luna, and Gracie. In his free time, Dr. Glover loves participating in music ministry with his wife, playing bass guitar, exercising, reading, writing, and drawing.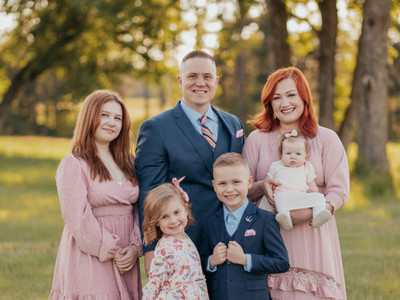 Written by Nidhi Pullukuri
Nidhi Pullukuri is a summer intern in the department of University Communications.