DBU Hosts Ninth Annual Christian Leadership Summit
February 28, 2023
Written by Emmalie Ellis
Dr. Michelle Henry leads breakout session on the life and legacy of Fannie Lou Hamer
The Gary Cook School of Leadership was pleased to host its ninth annual Christian Leadership Summit this February. As Patriots gathered together to engage in informative and encouraging conversations, faculty, current and prospective students, alumni, and special guests alike were able to become greater conduits of change for the sake of the Gospel.
"Each year, our Summit brings together current, former, and prospective students," says Dr. Goodyear. "We are thankful to see our students serving in so many capacities: health care, education, business, law, government, ministry, and military service."
This year's Summit hosted over 100 individuals on campus for this day-long event. The Summit began with several breakout sessions, including "Graduate Research: Taming the Beast" led by DBU Library Director, Scott Jeffries; "Spinning Plates: How to Balance Life, Work, and Doctoral Research While Maintaining Your Sanity" led by a doctoral student panel; and "Stand Firm and Hold On: Leadership Session from the Life and Legacy of Fannie Lou Hamer" led by DBU Professor of English, Dr. Michelle Henry; and more.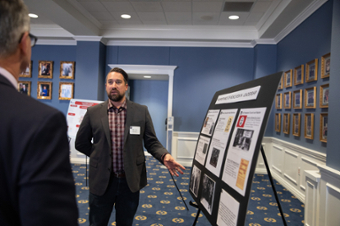 Following the breakout sessions, attendees had the opportunity to hear various student poster presentations on current doctoral research and spend time fellowshipping with one another prior to the evening's dinner and program held in Sadler Hall.
Dr. Jack Goodyear, Dean of the Cook School of Leadership, welcomed all in attendance before Dr. Rodney Garrett prayed over the special evening. Greetings were then extended by both Chancellor Dr. Gary Cook and Provost Dr. Norma Hedin prior to the presentation of the student Awards.
Program Directors for the M.A. in Leadership, M.A. in International Studies, and M.Ed. in Higher Education distributed the Master's Programs Awards, followed by the Marion Donnell Scholarship given by Dr. Cook and Dr. Mary Nelson, Director of the Ph.D. program.
Dr. Sue Kavli, Cook School of Leadership Associate Dean and Director of Research, then congratulated Dr. Kevin Gandy (Ph.D.), Dr. Nate Salah (Ph.D.), and Dr. Shaunta Scroggins (Ed.D.) as this year's Outstanding Dissertation Award recipients. The program was brought to a close with a benediction provided by Dr. Kim Figaro, the newly appointed Director of the Ed.D. in Educational Leadership program.
"We pray that God will continually produce effective leaders through our programs that will glorify Him in all they do," shares Dr. Goodyear. "We hope our time together at the Summit furthers that end."
Written by Emmalie Ellis
Emmalie Ellis writes for the University Communications department at Dallas Baptist University.