Celebrating the Release of Alumnus Dr. Marcus Goodloe's "The Next Level"
On the evening of February 7, DBU alumnus and longtime friend of the University Dr. Marcus "Goodie" Goodloe visited the DBU campus to commemorate the release of his new book, The Next Level. The book provides an invitation for individual or group study on how to take our relationship with Scripture, our walk with Christ, and our worship to the next level. Dr. Goodloe shares stories from his past about how he has seen God work through his life in big and small ways. A relationship with God is not something that has a finish line. It requires constant devotion and dedication to continue to deepen and strengthen it. No matter where you are in your walk with Christ, it can always be improved or taken to the next level. The book closes with encouragement to the reader to look inward and examine the heart.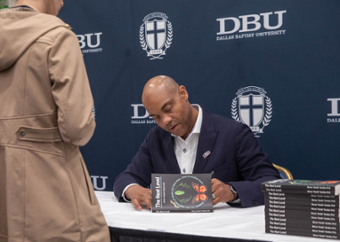 During his visit, Dr. Goodloe presented a lecture to the Patriot Professionals development staff and hosted a book signing event afterward in DBU's Center for Baptist History and Heritage located in Ford Village. During his talk, Dr. Goodloe spoke about his early ministry at Oak Cliff Bible Fellowship which inspired the title of his new book. He referenced Ephesians 1 and remarked how the Holy Spirit has given us spiritual blessings, and that we are called to be stewards of these blessings.
To illustrate, Dr. Goodloe reminisced and told a story from his honeymoon. He and his wife arrived at their hotel and were surrounded by luxurious buffets and expensive food, but the newlyweds were determined to be money-conscious throughout the week. He and his wife ordered from a set menu instead of splurging on the buffet. On the last day of their trip, they decided to treat themselves to the buffet. An employee informed them that they had pre-paid access to the buffet and several other dining options for the entire week. They were unaware that the hotel they were staying at was all-inclusive. They had missed out on an entire week of amazing food and experiences! He related this to his walk with Christ. Believers should take advantage of the all-inclusive buffet that God has blessed us with. We should not settle for living a marginalized life. We can accept God's abundance rather than settle for "stagnant faith, diminished creativity, and curtailed dreams with stunted imaginations." God's spiritual buffet includes His Word, prayer, fellowship with other believers, and worship of Him.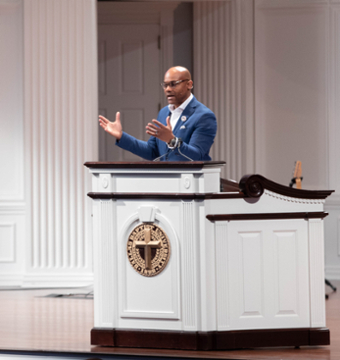 Before heading back home to California, Dr. Goodloe spoke to the DBU student body in Wednesday morning's chapel service where he encouraged and challenged students to mimic Christ and be bold in proclaiming the Gospel. Dr. Goodie Goodloe's friendship and faithfulness is a blessing to our Home on the Hill, and the campus eagerly awaits his next visit.
In 2011, Dr. Goodloe earned his Ph.D. in Leadership Studies from DBU, and in 2020, he joined DBU's Institute for Global Engagement as a Senior Fellow for Ethics and Justice. He also serves as an adjunct professor in the Gary Cook School of Leadership and frequently speaks at chapel services and the Veritas lecture series.
Born and raised in Compton, California, and now residing in the Los Angeles metropolitan area with Lucy, his wife of 24 years, and their two children, Joshua C.H. and Hannah Marie, Dr. Goodloe travels the nation mentoring students, teachers, business and legal professionals, athletes, and church groups on Christian faith and leadership, relationships, teamwork, and character development.
Written by Cameron Billings
Cameron Billings writes for the University Communications department at Dallas Baptist University.