Brother Bill's Helping Hand
The Coronavirus has changed the way organizations are fulfilling their mission. In the wake of the disruption, many have been forced to adapt their approach so as to continue providing much-needed services while protecting the safety and health of their staff and the people they serve.
Among these are local non-profit ministries like Brother Bill's Helping Hand (BBHH), which are vital to caring for the needy and vulnerable, especially in this difficult season. In fact, more than many other affected organizations, COVID-19 has caused a surge in demand for humanitarian services like this one as many families to face financial struggles and hunger due to a sudden spike in unemployment.
For many years, Brother Bill's Helping Hand has been serving the West Dallas and Oak Cliff communities through the operation of a Grocery Store food pantry, as well as a free Medical Clinic for uninsured adults. Beyond these various "on-ramp programs" that create an initial connection with BBHH, personal development classes and enrichment programs are offered as well.
"We believe in helping meet the basic needs of our neighbors, and then also providing tools and resources to help them eventually be self-sufficient," says Courtney Cuthbert, who currently serves as the Director of Volunteers and Food Ministry. Job training for women, ESL, Bible studies, as well as healthy living, parenting, and faith and finance classes are several opportunities provided at BBHH that are helping to empower Dallas' neediest communities. "We want to be disciple-makers with everyone who comes to BBHH and help all of them unlock their God-given potential."
Without sacrificing its mission and vision to serve the needy, but with limited access and resources, BBHH has had to change their brick-and-mortar model that traditionally uses multiple touch-points to build relationships with its neighbors, including opening with prayer and a devotional led by staff members followed by direct access to the stocked shelves in the Grocery Store.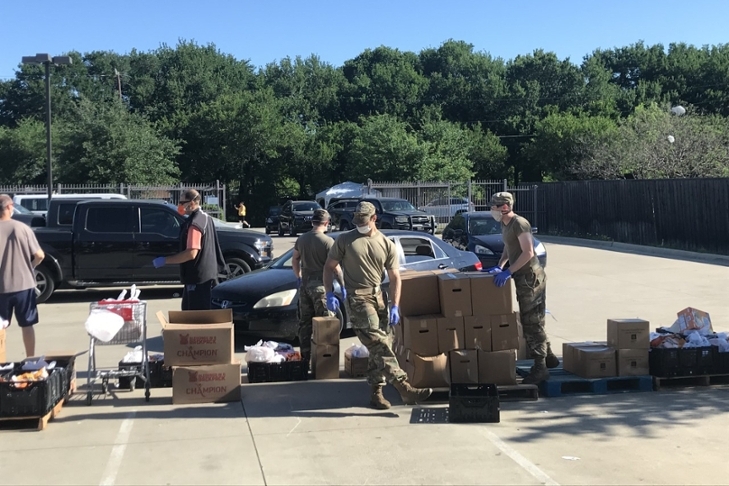 However, under the challenges of the current situation, only a limited number of volunteers are allowed in the building and must be pre-screened, their temperatures taken and wearing masks and gloves for the entirety of their service. The Grocery Store was transitioned to a drive-thru model where families remain in their cars and staff and volunteers walk groceries out to them. Whereas BBHH once allowed two visits by families per month, they have reduced this to once a month for safety purposes while doubling their food distribution on those visits.
BBHH relies on the North Texas Food Bank for 90% of the foods distributed from its shelves. Understandably, the inventory that serves nonprofit like BBHH has been depleted as a result of increasing demands. In fact, 70% of people waiting in line at food banks and food pantries are there for the first time ever.
When the NTFB inventory available to BBHH dropped drastically from ten pages to three, staff sought the Lord immediately and reached out with a plea of help to its faithful volunteers and donors.
"We always pray fishes and loaves over our food here at BBHH, that we would be able to feed the multitudes," says Courtney. "Every day at 3:20 pm, I pray Ephesians 3:20, that God will do exceedingly and abundantly more than all I can ask or imagine."
The Lord's answers to prayer through the response of the many friends of BBHH has been overwhelming. "The first week that the NTFB was low on inventory, we blasted out on social media and to our email subscribers our needs. We asked for help, and the body of Christ began to move. Families started organizing food drives and benefit concerts in their neighborhoods; restaurants and businesses partnered with us to begin collecting food; schools, churches, and service league groups have also been collecting donations on our behalf; and our shelves have been full ever since."
BBHH keeps its patrons and friends updated on social media and communicates frequently on a text platform called Care Message. With regard to continuing its free medical services, the nonprofit moved to telehealth, telecounseling, and a drive-up health clinic, as well as publicizing its very own YouTube channel to feature home exercise videos, Bible studies, and other classes to continue spiritual development and skills learning.
"All of the needs of our neighbors have been met. If God cares about cans on a shelf, how much more does He care about us? While many things are uncertain in this season, one thing remains constant and steadfast, our God sees us, values us, and cares for us. He will provide."
Courtney previously worked as a Promotions Coordinator at 96.3 KSCS radio station in Arlington. After a summer mission trip to Kenya, she sensed the Lord calling her into ministry but was not sure what that would look like. That very year she was laid off from her job due to a company buy-out; she was led by the Lord back to DBU where she worked temporarily in Marketing and pursued her master's degree.
It was during that time that then DBU President, Dr. Gary Cook, sent out an email soliciting DBU faculty and staff for help to serve as volunteers at Brother Bill's Helping Hand. "I eagerly jumped at the opportunity," says Courtney, eventually becoming the liaison between BBHH and DBU to make sure their food pantry on Saturdays was always fully staffed with DBU volunteers. "I fell in love with the ministry and the neighbors they served." That opportunity later developed into her current position and has provided Courtney with seven years of leadership experience at this important non-profit serving the needy of West Dallas and Oak Cliff.
Courtney graduated Summa Cum Laude with her Bachelor of Arts in Communication with a minor in Marketing from DBU in 2007. Her mother, Deemie Naugle, has been at DBU for 37 years and serves as Associate Provost. Her stepdad, Dr. David Naugle, was a beloved professor in the College of Christian Faith at DBU for 29 years, until his recent retirement in 2018.
To read more about Brother Bill's and to learn of ways you can serve, go to https://bbhh.org/ways-to-serve
Written by Dr. Michael Whiting
Dr. Michael Whiting is the Director of Written Content in University Communications at Dallas Baptist University.