M.A. in Christian Ministry - Chaplaincy Program
Providing Care and Compassion in Times of Need
Chaplains are the quiet heroes walking the halls of every hospital, serving in military installations, and ministering throughout every office. Chaplains gravitate to places of need to provide compassionate care. The M.A. in Christian Ministry - Chaplaincy Program prepares servant leaders with both theological and practical competencies needed to serve as a chaplain in a variety of contexts.
Students receive biblical and spiritual training, along with an understanding of crisis care ministry, ecumenical liturgy, conflict resolution, and victim assistance ministry. The coursework is designed to provide real-world training for chaplaincy and to provide the flexibility to pursue particular interests.
"For I was hungry and you gave me something to eat, I was thirsty and you gave me something to drink, I was a stranger and you invited me in, I needed clothes and you clothed me, I was sick and you looked after me, I was in prison and you came to visit me." - Matthew 25:35-36 NIV
How Our Graduates Impact Their World
Many of our students serve in the military, as well as in health care systems, correctional facilities, corporations, and other industries. Chaplains are also needed at disaster scenes requiring crisis intervention and spiritual leadership. Additionally, chaplains often serve special interest groups (such as civic clubs and professional sports teams) and transitory population contexts, including airports and seaports, recreational venues, and national parks.
Experienced Faculty. Servant Leaders.
Learn from faculty practitioners who teach not only from the textbook but also from their ministry experience. We intentionally integrate Christ-centered, servant leadership principles into every aspect of study - from the courses students take, to the professors who teach. This DBU distinctive sets our program and our graduates apart.
Designed to Meet Your Needs
We enable you to pursue graduate study while balancing career, family, and ministry. DBU graduate students have many options for completing their degree, including schedule flexibility and financial aid.
Course Convenience
Online Courses
Hybrid Courses (Part Online, Part Classroom)
Evening Courses
 
The Degree Program
The 72-hour M.A. in Christian Ministry - Chaplaincy Program consists of:
24 hours, Core Requirements
36 hours, General Ministry Courses
12 hours, Chaplaincy Ministry Courses
Program Goals
Integrate Christian faith and learning in a ministry setting
Understand key components of a biblical, theological, historical, and practical ministry foundation
Incorporate theory and practice in meaningful service
Demonstrate servant leadership through vocational ministry
Identify the diversity of ministry service contexts available in the 21st century
Meet the Director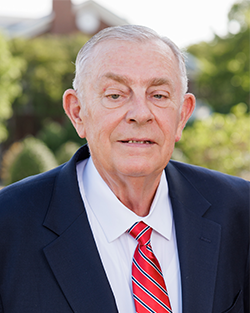 Dr. Tom Vann
Program Director
Email: tomv@dbu.edu
Phone: (214) 333-5805
Pilgrim Suite 305
A chaplain friend once wrote, "Chaplaincy is the Greatest Story Never Told." It is a great story because Christian chaplains model their ministry after Jesus who did most of His ministry outside the walls of organized religion. Following Christ's example of ministry on the seashore, on mountaintops, over dinner tables, and along the roads as He walked, chaplains provide many forms of caring ministry to countless people in a variety of places beyond the confines of the church. Our chaplaincy students here at DBU are integrally involved in chaplaincy internships and residencies and are busy serving the Lord in local churches. While they meet for classes on campus in the evening hours and online, you will find them providing spiritual and pastoral care in military units, hospitals, nursing homes, the DFW International Airport, a police department, and Marketplace Chaplains USA. I would be delighted to tell you more about opportunities for study and ministry in chaplaincy.
FORGE
DBU's Graduate School of Ministry and Pine Cove's Forge have partnered to allow Forge alumni to earn up to 18 hours toward a master's degree offered through the Graduate School of Ministry.
Sky Ranch
Tuition free master's degrees! The partnership between DBU's Graduate School of Ministry and Sky Ranch provides participants in their Legacy Fellowship the opportunity to pursue one of eight online ministry degree programs, paid for by Sky Ranch, while gaining invaluable real world experience at the same time. Visit the Sky Ranch website for more information.
Accelerated Degrees
Are you a current or prospective Undergraduate student? Get your Master's faster with our Accelerated Degree Programs.
Advanced Certificates
Wanting to pursue graduate studies, but not ready to complete a master's degree? Consider an Advanced Certificate Program!
DBU's Ministry-Related Master's Degrees provide Christ-centered graduate level training for ministry leaders, equipping them with a biblical, theological, historical, and practical foundation for ministry.
Enhance your ministry by pursuing a master's degree.