Master of Science in Organizational Change and Project Management
Companies seek leaders who can think strategically, adapt promptly and with flexibility, optimize present and future resources, and act ethically to lead others into the future.
The Master of Science in Organizational Change and Project Management is an accredited STEM degree emphasizing creativity, innovation, and decision-making strategies focused on leading organizations through major change initiatives and large-scale projects.
The program provides graduates through operational methodology and implementation processes and sound project management principles the opportunity to create, organize, and execute effective strategies, ensuring successful results. Every project carries a change component. Graduates gain solid understanding of organizational development, data analytics, and change management principles to guide the organization through successful change initiatives. 
More than an Education
Our faculty are skilled practitioners with extensive business experience in project and change initiatives who also excel in the classroom, creating an engaging learning environment. The program format is flexible, combining in-person, with synchronous and asynchronous online opportunities to help students navigate the challenges of balancing career, family, and furthering their education.
Marked by Service
At DBU we are dedicated to your success. Our faculty and staff are true servant leaders who encourage our students to lead by serving the interests of those around them. Whether you are looking to advance in your current career or seeking a new career in the expansive fields of project and change management, we provide an opportunity for experiential learning through industry collaboration.
Our graduates serve as organizational leaders and change agents across the business environment.
Meet the M.S. in Organizational Change and Project Management Program Director
"We provide unique and customizable paths to prepare you to meet the challenges posed by our rapidly changing global markets. Come join our community and help transform the world."

- Dr. Joe Hopkins, Program Director
214-333-6943 | jhopkins@dbu.edu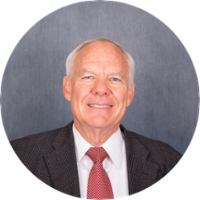 Additional M.S. in Organizational Change and Project Management Program Information
Degree Plan
Accreditation
Bachelor of Business Administration and Bachelor of Business Studies programs at the undergraduate level and Master of Business Administration and Master of Arts in Management programs at the graduate level are fully accredited by the ACBSP.  Master of Science in Information Technology Management and Master of Science in Management programs have met conditions for eligibility and are awaiting confirmation of accreditation by the ACBSP.  Master of Science in Finance, Accounting, Supply Chain, Project Management, and Digital Risk Management are in the process of meeting the conditions of eligibility for accreditation by the ACBSP.
Admission Requirements for the M.S. in Organizational Change and Project Management
View DBU Graduate School's admission requirements.
Admission to one graduate program does not guarantee admission to another. Applicants who show potential for graduate study but do not meet the criteria for Full Admission may be admitted for up to 12 hours under provisional status. Students admitted under Provisional Admission will be granted Full Admission upon successful completion of 12 credit hours and fulfillment of the conditions of their admission as determined by the Master's Degrees Admission Committee.
Full Admission Requirements | International Admissions | Transfer Admissions