Human Resource Management
M.A. in Management Concentration
The SHRM-aligned Human Resource Management master's program at Dallas Baptist University offers students the opportunity to develop as HR professionals and personally grow as servant leaders. Graduates will apply theoretical knowledge and practical skills pertaining to the global HR professional, including complex and dynamic staffing issues, compensation strategies, training and development, diversity and inclusion, compliance requirements, mitigating risks, agility, and growing innovative trends.
Courses are taught by leading practitioners with extensive professional experience from global organizations such as AT&T, Southwest Airlines, and Neopost, among others. Instructors equip students for success in both the essential core of HR regulatory functions as well as the talent management process, with an emphasis on leadership development and coaching. Workforce analytics, HR strategy, and decision making prepare the HR professional to be strategic business partners for dynamic organizations. The required capstone course equips students to synthesize real-world learning and experience in competitive simulations geared to sharpen the seasoned professional and equip recent graduates.
More than an Education
With a 13:1 faculty to student ratio and a vast network of HR professionals at top businesses, students enjoy the opportunity to join a strong community of professionals who seek to impact their organizations for a greater cause. Our approach is conducive to developing mentor relationships with practitioners with diverse backgrounds and callings. Our HR master's degree is offered online, in-person, and in hybrid formats to accommodate the schedule of the working professional.
Marked by Service
DBU is a Christ-centered launching point where leaders are equipped to excel as business professionals who impact their environments through their respective callings. The HR industry is about people, which is why servant leadership gives you the edge. One of the primary functions of HR is to develop professionals who can improve organizations. "The central goal of servant leadership is to create healthy organizations that nurture individual growth, strengthen organizational performance, and in the end, produce a positive impact on society" (Northouse, 2016, p. 236). We believe that HR through the lens of servant leadership is not only a natural fit, but also a superior tactic, and our graduate's results in the field indicate we're right!
Take the Lead. Serve the World.
Money Magazine rates human resource management positions as number four in the "Top 10 Best Jobs in America" with a projected annual national growth rate of 32,300 job openings per year over the next 10 years. LinkedIn ranked Dallas-Fort Worth as a top 10 city in the U.S. for hiring new graduates. The U.S. Bureau of Labor Statistics showed that DFW had both the highest job growth rate and the most jobs added from November 2016-November 2017. This equates to a vast number of businesses requiring Human Resource personnel to hire, manage, and develop top talent. The DBU HR program equips modern HR leaders to make an impact through organizations of all kinds. If you want to advance your career, consider a quality HR education that empowers you professionally and personally to make a lasting impact, and contact us today!
Meet the M.A. in Management Program Director
"We provide unique and customizable paths to prepare you to meet the challenges posed by our rapidly changing global markets. Come join our inclusive community and help transform the world."


- Dr. Ross O'Brien, Program Director
214-333-5399 | rosso@dbu.edu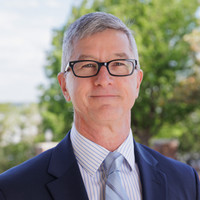 Additional M.A. in Management Program Information
Admission Requirements for the M.A. in Management
View DBU Graduate School's admission requirements.
Admission to one graduate program does not guarantee admission to another. Applicants who show potential for graduate study but do not meet the criteria for Full Admission may be admitted for up to 12 hours under provisional status. Students admitted under Provisional Admission will be granted Full Admission upon successful completion of 12 credit hours and fulfillment of the conditions of their admission as determined by the Master's Degrees Admission Committee.
Full Admission Requirements | International Admissions | Transfer Admissions