Executive MBA
The Executive MBA is a 32-hour, advanced degree designed to develop individuals who have the knowledge and capability to take on leadership roles in multiple settings across a breadth of industries and organizations. Dallas Baptist University's EMBA provides an environment where working professionals can advance their leadership skills while sharing ideas and experiences with business and academic colleagues. DBU offers one of the most effective and efficient programs designed to meet the needs of working professionals.
Our four-semester, 32-hour degree utilizes the knowledge already gained from previous leadership experience and integrates executive-level critical thinking and skills development over sixteen courses that develop the whole leader. Professionally qualified volunteer executive mentors coach students through a variety of meetings and interactions to develop and enhance the student's learning experience. Mentor executives and faculty of record for each cohort will work cooperatively with students in small groups both face-to-face and in a hybrid format. 
More than an Education
At DBU, our EMBA program focuses on the four C's: Christ-centered, Cohort-driven, Cost-effective, and Community-engaged. As a Christ-centered institution, we prayerfully develop our curriculum and prepare our faculty to integrate faith and learning in a way that transforms the lives of our students. As a Cohort-driven program, we believe students' experiences are enriched as they develop lifelong relationships and invest deeply into each other's lives. While a private institution, we have priced our EMBA program to be Cost-effective with a single price point and no hidden fees that rival the cost of this exclusive degree when compared with our peers in DFW and across the country. Finally, our program is Community-engaged as we expect and prepare our students to be ambassadors for their community by developed servant leaders, empowering community service, and integrating service-learning into your experience.
Marked by Service
Servant leadership, the defining principle of leading to serve, is the focus through which all problems are solved and is the cornerstone of the Executive MBA. Participants will grow and develop their abilities to incorporate values and ethical conduct into decision making and leadership.
"Expect the support of a close-knit, Christ-centered community that wants to know you personally."

- Dr. Sandra Reid, Program Director
214-333-6860 | sandra@dbu.edu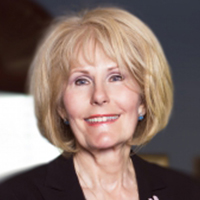 Get Connected with your Program Director
We want to develop Christian servant leaders who will transform the world. With a concierge mindset, our program aims to fit into your busy life!
Concierge Service
We have designed the EMBA to be completed within four consecutive semesters by meeting once per month each semester all day Friday and Saturday at the DBU-North campus. We handle all the tiny details that can get tedious such as food, books, and travel so you can focus on the important stuff.
Degree Plan
International Experience
Designed for students to gain an international perspective of leadership in other countries and industries outside their own. During an 8-day trip, students will visit Tokyo, Japan, to meet with local leaders to strengthen their global awareness of organizations and workplaces in other cultures. Students will have the opportunity to observe and examine industries such as health care, manufacturing, and service providers in order to contrast them with those of the United States.
Admission Requirements for the Executive M.B.A.
Five or more years of significant, substantive managerial/leadership experience that may be evidenced through review of resume', applicant interview, and employer recommendation
GMAT score within the past 7 years, which may be waived with outstanding letter of reference from the student's employer
Each applicant is to be interviewed by the Chair of the Graduate School of Business
One or more letters of reference from the applicant's employer in support of the student's time and efforts into the program and of the student's capability to perform well in an executive business program
The admission requirements listed above are specific to this degree program and are supplemental to the Graduate School's requirements for Full Admission. Admission to one graduate program does not guarantee admission to another. Applicants who show potential for graduate study, but do not meet the criteria for Full Admission, may be admitted for up to 12 hours under provisional status. Students admitted under Provisional Admission will be granted Full Admission upon successful completion of 12 credit hours and fulfillment of the conditions of their admission as determined by the Master's Degrees Admission Committee.
Full Admission Requirements | International Admissions | Transfer Admissions