Alumna Shelby Cantwell: Director of Grants and Development for the World Affairs Council of DFW
April 3, 2023
Written by Emmalie Ellis
"Through each season of life, the Lord has been incredibly gracious to me by providing people to step alongside me to learn and grow from. From scooping ice cream at Marble Slab in high school, to my time as a student at DBU, and now getting to work with leaders from across the world, the Lord has been there every step of the way. It is not about us at all; it's all for His glory."
Prior to her current position as the Director of Grants and Development for the World Affairs Council of Dallas/Fort Worth, Shelby Cantwell spent five years on DBU's campus obtaining both her bachelor's and master's degree. Now, as she serves the DFW community and the world, Shelby puts her training into practice each and every day.
Shelby Cantwell was born and raised only 25 miles away from University Hill in Burleson, Texas. While searching for colleges, Shelby says that DBU was the very last school she toured. It didn't take long for the mission, vision, and beauty of DBU to capture Shelby's heart. "As soon as my tour ended I knew that DBU was where I was supposed to be," Shelby says. "I knew that DBU truly integrated Christ-centered learning; that's what ultimately drew me to and prompted my choice to attend DBU."
In 2014, Shelby began her undergraduate work, studying Sports Management on campus. As a student, Shelby shares that some of her favorite moments of her undergraduate years consisted of being a part of Zeta Chi sorority, winning the costume contest at the Great Pumpkin Chase, and "of course," she says, "meeting my now husband, Jonny Cantwell (DBU Alum), when I was a sophomore at DBU and the many lifelong friendships we built."
Throughout her time at DBU, Shelby fondly remembers working in the Athletics Departments as a student worker, aiding the Advancement Office in the planning of fundraising events such as the (then) Russell H. Perry Award Dinner, and later serving as the Director of Veteran Services. Additionally, Shelby was an active member in Omicron Delta Kappa (OΔK) national honors society and the Emerging Leaders program.
After graduating with her bachelor's degree in 2017, Shelby began working towards her Master of Business Administration, desiring to advance her knowledge of management, finance, and marketing.
Shelby extends an extra note of gratitude to Dr. Cory Hines, previous Vice President for Advancement, and Dr. Jeffrey Johnson, previous Vice President for Advancement and Dean of the College of Business. "Both Dr. Hines and Dr. Johnson had a great impact on my life," Shelly shares. "Working for the both of them led to my interest in pursuing a profession in the development space."
Shelby obtained her MBA in 2019 and began her career at Southwest Airlines before moving to her role at the World Affairs Council. "The World Affairs Council of DFW serves as North Texas' primary nonpartisan platform for international engagement and key foreign policy and diplomatic matters. In a time of increased polarization, the Council has the ability to connect individuals and promote civility across different topics," Shelby explains. "Through my work at the Council, I have been fortunate to hear and learn from many national and international leaders; from former secretaries of state, governors, senators, journalists, and authors who are experts in their fields. The firsthand accounts they share go well beyond the media headlines you typically see or hear."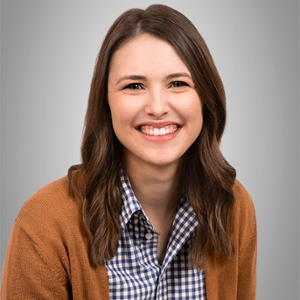 Currently, Shelby serves as the Director of Grants and Development for the World Affairs Council of DFW. (Prior to that she was Manager of Membership and Development.) Her primary responsibilities have involved raising funds through grants for the Council's four pillars of work: Public Programming, International Visitors Program, Protocol, and Education. Additionally, Shelby has the opportunity to work with the Council's donors and members to engage and involve them in the important work done by the Council for the DFW community.
"Going through the MBA program at DBU gave me the tools that I needed to be able to operate effectively in a professional environment, which have served me well throughout my professional career at Southwest Airlines and now at the World Affairs Council," Shelby shares. "Even outside of the classroom, DBU prepared me in how to cultivate relationships and to serve those I work with."
As she reflects on her time in college and excitedly looks into the future, Shelby offers this piece of advice to current students: "Be fully engaged and take advantage of the opportunities that are available during your time as a student. There are endless opportunities for mentorship that will help you develop professionally and teach you how to engage with culture through a Christian worldview." She continues by saying "DBU is a unique place with wonderful professors and administrators that are ready to pour into you, help you to develop into a strong leader, and thrive post-graduation."
Shelby and her husband Jonny have two young boys, Camden (3) and Brooks (1). The Patriot family looks forward to the many ways in which Shelby Cantwell will continue to serve the DFW community in the future and is excited to hear how the Lord uses her dedication in the years to come.
Written by Emmalie Ellis
Emmalie Ellis writes for the University Communications department at Dallas Baptist University.