Sergiy Saydometov, Ph.D.
Associate Dean, College of Business
Assistant Professor of Finance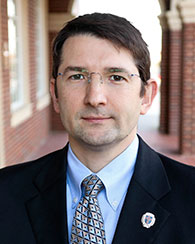 Educational Background
Ph.D. Finance - University of Texas, Arlington
M.B.A. Finance - University of Texas, Arlington
B.B.S. Finance - Dallas Baptist University
Dr. Saydometov teaches finance courses in the College of Business, including Corporate Financial Management, Securities Analysis, International Finance, and Principles of Micro and Macro Economics. Born in Ukraine, Dr. Saydometov came to America to further his education at Christ for the Nations Institute (CFNI). He then began his journey at DBU after transferring from CFNI in 2001. Dr. Saydometov joined the faculty in January 2009 and became an assistant professor of Finance and the Associate Dean in January 2012. Dr. Saydometov spends much of his time outside of class helping his students and encouraging them in both their studies and their walk with the Lord. He, his wife Mac and two children live in Arlington, Texas, along with their rescue dog.