Kimberly Figaro, Ph.D.
Assistant Professor of Statistics and Leadership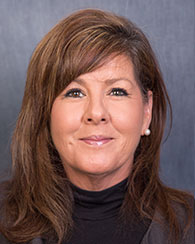 Educational Background
Ph.D. Leadership with Statistics - Dallas Baptist University
M.B.A. Management - Dallas Baptist University
B.B.A. Management - Texas A&M University, Commerce
Dr. Kimberly Figaro came to Dallas Baptist University in 2017 to serve as the Doctoral Research Assistant to the Director of Research in the Cook School of Leadership, and she now teaches statistics in the College of Business. Before arriving at DBU, she served in the corporate world for over twenty years in various industries and roles, primarily working in the Consumer Electronics space with manufacturers and big-box retailers as a director of merchandising.
Passionate about statistics, Dr. Figaro enjoys assisting students in all areas of the subject. Her greatest joy comes from watching students develop in their knowledge and passion for the initially difficult concepts she teaches and sharing in the moments when the concepts finally click together. Dr. Figaro is a member of Lake Pointe Church and lives in Frisco, TX where she enjoys entertaining her three adult children and five grandchildren.